Orange County, CA Attorney Services
Orange County is California's 6th most populous county, but the second most densely populated with about 3,200 people for every square mile. The four largest cities in Orange County — Huntington Beach, Anaheim, Irvine, and Santa Ana, each have a population of more than 200,000. Many of the cities of Orange County, most notably Huntington Beach and Laguna Beach, dot the county's Pacific coastline.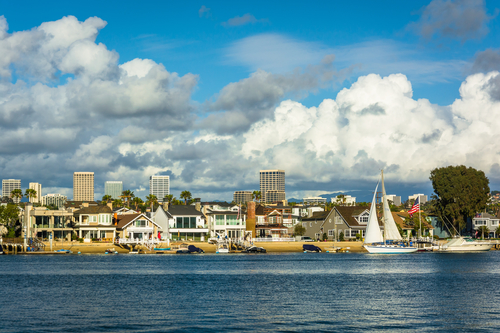 The first permanent European settlement in the region was Mission San Juan Capistrano, which was founded in 1776. The area's economy was focused on ranching until the 1860's, when severe drought impacted cattle ranching. Avocados, citrus crops, and oil were also important to Orange County's early economy. The population of the area truly began to grow when the silver discovery in 1887 attracted new settlers to the area. In 1889, Orange County was split from Los Angeles County. Its name is said to have come from the fruit to promote the area as a semi-tropical region to bring immigrants. In the 1940's, Buena Park native Walter Knott brought new fame to Orange County when his boysenberries became a hit. After selling the berries at a road stand for years, Knott opened Knott's Berry Farm just eight miles from Disneyland in 1940. Today, Knott's Berry Farm is the 13th most visited theme park in the country with more than 3.7 million visitors each year. Disneyland, located nearby in Anaheim, boasts more than 18 million visitors every year. Tourism is an important part of the economy in Orange County. Cities throughout the county receive millions of visitors each year due to their proximity to beaches, golf courses, hiking trails, and shopping. Our Attorney Services in Orange County
Orange, the Orange County self-named city is just about 3 miles north of the county seat in Santa Ana. The most famous feature of this city is the accommodation structures. While most cities in California ensured that old structures were demolished and rebuilt, in Orange, these same structures, especially those built in the 1920s are left and kept. This city is a neighbor to Villa Park and as of 2014, had a population of over 130,000 residents.
Orange also doubles as a hub for most startups and other older firms and a result offers a healthy variety for any service seeker to decide from. With its entertainment centers, business complexes and other establishments, it is easy to access your desired service. If you, for example, need to have a legal matter taken care of, then you will definitely not have a hard time landing an attorney. The challenge with securing a service vendor is the assurance of a professional service. At Rawa Law Group, we strive to ensure that your interests are protected, by availing you with professional services, we work to deliver to you the results that you desire. To further make our pitch, here are a few reasons why you should let us be your attorneys of choice.
Why Rawa Law Group?
Orange, with its many companies, promises many varieties for people looking for specific services. In the legal sector, you have to consider hundreds of firms across the city, but only a few are competent enough to keep their promises. The reason is that representation involves much more than knowledge of the legal provisions, as it pertains to understanding clients' claims, the experience and resources available are essential elements to be taken into account to achieve the desired results. Here are some of the reasons why you should choose our attorneys and services:
For more than twenty years, the Rawa Law group has been around, championing the legal scenes of Orange and California, our reputation is firmly established on the impeccable results achieved over time and the excellence of our services.
Our Orange attorneys are revered throughout the city and the state for their experience as well as competence. Their impressive performance over the years shows their true value and what you should expect from these legal geniuses. Rawa Law Group has done an incredible job by bringing together some of the most complete and articulated legal minds in the same company.
We are professionals in the legal profession that do not cut corners in the act of our responsibilities. We are known for our skill and attention to detail, which has earned us several accolades over the years.
we offer a contingency style of representation. This is done in such a way that you only pay for our services when we have been successful in obtaining the settlement you need.
We are totally committed to the well-being of our clients by offering them a relentless advocacy and professional advice at every step. Our advice is also offered free to our clients.
In the years in which we have provided legal services in the region, we have remained faithful to our principles of integrity, hard work, and competence. We do not have big or small cases; we approach each case with the same enthusiasm and the same direction.
With a reputation built over the years, Rawa Law Group is proud to be the most respected law firm in the city of Orange. Many people within and around the city have benefited from our excellent services as have won settlements reaching hundreds of millions for claimants.
Our attorneys are professionals respected in the legal profession. It is a team of very competent minds who have managed practically all the known cases in the legal field. You can count on our experience to get the best results because we will not spare resources to handle your case.
The best attorneys in Orange
With hundreds of millions redeemed over the years for our clients, as well as an exceptional performance placed in the minds of our clients and the people, Rawa Law Group has thrived in Orange, restoring hope and confidence.
At Rawa Law Group, we are used to spending time educating our clients before advancing their cases. Our observation shows that claimants tend to make better decisions when they have the necessary information at hand. This clarification process will be carried out through consultation which is completely free. The client will receive valuable advice on how to go about their case, guides and instructions on what to do and an assessment of their possible court standings.
Once done, we would give our client an impeccable representation with their case; so far they decide to pursue their case. The services offered by our attorneys are as professional as they are all-encompassing. Our attorneys are experts in almost all fields, including:
Hit and Run Accident
Are you a victim of "Hit and Run" accident? If this is the case, we can help bring the culprits to book. Our experienced attorneys will create a valid lawsuit against them, with the assurance that you will be well compensated for your loss.
Incorporation
Merging firms together can be tricky. Our professional attorneys can help you take away the stress of gathering the right documents and legal documents by helping you with the task. In this way, you will be assured that your quest is being handled by professional hands.
Disability Discrimination
Discrimination of any form should not be tolerated in the workplace or elsewhere. If you or someone has been treated unfairly because of your disability, we can help you advance a case to get compensated for it. Taking advantage of the law, we will ensure sure that those responsible are discouraged from doing the same thing in the future.
We can handle these and many more for you! Our support staff and attorneys are ready to work with you to achieve the desired results. Visit our office or call toll free 1-844-444-1400 to schedule a consultation.
Rawa Law Group
5843 Pine Ave
Chino Hills, CA 91709