Those who have ever been or who are victims of truck accidents know what it is to be involved in one. The impact of truck accidents is almost second to none. Severely injured bodies and damaged properties are bound to follow, that is if nobody ends up dying. However, you as a victim can make accident claims and be sure to get the full and prompt settlement if you involve the services of a dependable truck accident attorney.
If you need a truck accident attorney in Orange, CA you can reach out to us at Rawa Law Group.
Rawa Law Group is a superior law firm that boasts of having some of the most dependable truck accident attorneys in the whole of California. We have a combined experience of more than 55 years in legal practice. We believe in advocacy for the injured and we strive to work towards it for Orange claimants. If you choose to work with us, be assured we have a rich legal profile and all of our clients have the much needed legal presence to help them win their case.
At Rawa Law Group, we offer our clients a free case evaluation. That goes to say you do not have to pay upfront for consultation. While at it, we keep you updated on how your case is going from the start to the finish. We also pay attention to our clients as our attorneys give flexible appointment hours and make visits to victims' homes or hospitals when the need arises.
The Best Truck Accident Lawyers of Southern California/Orange County Area
Truck accidents involving large or commercial trucks in California are usually serious and fatal. Trucks are a growing motorist group using Californian highways, and commercial trucking accidents occur frequently in the Orange County region. According to the California Highway Patrol, there are more than 300 fatal truck accidents in the state every year and more than 5,000 injury accidents. If you or your loved one has been involved in a truck accident, an Orange County truck accident injury lawyer can help you understand your legal options and rights and help you get better reimbursement.
Causes of Truck Accidents in Orange County
There are many possible causes of truck accidents and every case is unique, but there are many common factors that contribute to truck accidents in Orange County:
Fatigued Driver. Truck drivers often drive long distanced for long hours. While truckers are required to obey federal rules regarding how long they can remain on the road and work without rest, sometimes drivers falsify logs or drive longer than they should to meet deadlines, which increases the accident risk.
Speeding. Tractor-trailers take longer to stop on flat roads than passenger vehicles. Truckers who drive too fast or move too fast downhill may cause an accident if they lose control around a turn or rear-end a vehicle.
Improper loading. How balanced or imbalanced a trailer has been loaded can affect how well it will run on road. A trailer that is loaded improperly can cause the driver to lose control of the vehicle. Many jackknifing accidents are the result of an overloaded or improperly loaded commercial truck.
Poor maintenance. Many truck accidents in California are the result of poor truck maintenance, particularly tire and brake failure.
Reckless Driving. A tired driver or an irritated driver can cause fatal accident too.
Driving while impaired
Liability for California Truck Accidents
Truck accident injury claims are often complex because there are many liable parties involved, not just the drivers. A truck driver may be liable for his or her negligence in the accident, but the trucking company may also be liable for negligent hiring, driver training or truck maintenance. The truck owner can be responsible for an accident if the truck was not properly maintained and the manufacturer of the commercial truck may be responsible if a defective part contributed to the accident.
Contact a Truck Accident Attorney in Orange County
If you recently were a part of truck accident in Orange County, it is important to seek expert legal advice quickly because your rights may be affected by decisions you make following the accident. It is very common for insurance companies to offer a low settlement and accepting an offer or making a statement to the insurance company can reduce or forfeit your right to additional reimbursement. Contact an experienced Orange County truck accident injury attorney at Rawa Law Group today for a free consultation to discuss your case.
Other Cities That We Service: Santa Ana, Anaheim, Irvine, Huntington Beach, Garden Grove, Oceanside
Orange, Fullerton, Costa Mesa, Mission Viejo, Westminster, Newport Beach
Exceptional Commercial Truck Accident Attorneys in Orange County CA
Commercial trucks, sometimes called big rigs or semi trucks, are a common sight on roadways in Orange County. While commercial trucks play a very important role in our economy by delivering goods and food across the country, they also account for a disproportionate amount of fatal traffic accidents. According to the Department of Transportation, big rigs are involved in over 12% of traffic fatalities despite accounting for just over 4% of vehicles on the road.
Commercial truck accidents have a high risk of resulting in serious injury or death. After all, the average commercial vehicle weighs more than 80,000 pounds compared to 4,000 for a passenger vehicle. 97% of all deaths in commercial truck traffic accidents are occupants in passenger vehicles.
California now has the second-highest traffic fatality rate in the United States and there are more than 200 commercial truck accident fatalities every year in Orange County alone.
If you or your loved one has been involved in a commercial truck accident in Orange County, an experienced injury attorney can help you protect your rights and seek the compensation you deserve.
Commercial Truck Accidents in Orange County
As with car accidents, commercial truck accidents are usually caused by driver error or negligence. Big rigs require a special license and training because they take much longer to stop than a passenger vehicle and they have large blind spots. It can be easy to lose control of a semi truck for any number of reasons, including speeding, a blown tire, or an improper turn.
Common causes of semi truck accidents include: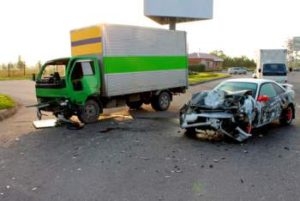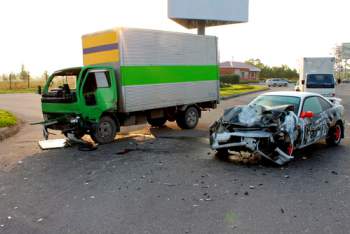 Fatigued driving
Parking on the shoulder
Reckless driving or speeding
Improper turning or lane changing
Driving while impaired
Overloading or improper loading of cargo which can cause a commercial truck to jackknife or roll over
Liability in Orange County Truck Accidents
When a crash with a commercial truck ends in property damage, injuries, or even death, the resulting insurance claim is typically more complicated with more people, companies, insurance adjusters, and government agencies involved. While driver negligence is often a main reason, the trucking company or truck manufacturer may also be liable. In more than three-quarters of truck accidents that involve rear-end collisions, the accident was the fault of the truck and car driver. Passenger vehicle drivers are usually responsible for most head-on collisions. Vehicle-related problems like faulty brakes are a factor in a small number of accidents.
Contact an Orange County Commercial Truck Injury Lawyer
If you have been involved in a commercial truck accident in Orange County, it's important to seek legal counsel as soon as possible so as to find out responsible party at the earliest. An experienced commercial truck injury lawyer at Rawa Law Group will investigate the accident to determine who was to blame and what factors contributed to the accident.
Each party responsible likely has insurance to protect them but it is not uncommon for these parties to fight over liability. At Rawa Law Group, we will work to seek the maximum compensation possible for your medical expenses, lost wages, and other damages.
Contact Rawa Law Group today for a free consultation with an Orange County truck accident attorney to discuss your case and explore your legal options.
Other Cities That We Service: Santa Ana, Anaheim, Irvine, Huntington Beach, Garden Grove, Oceanside
Orange, Fullerton, Costa Mesa, Mission Viejo, Westminster, Newport Beach
Orange County's Foremost 18 Wheeler Accident Lawyer
Commercial trucks, also known as semi trucks or 18-wheelers, are very common on the roadways in Orange County. More than 3 million semi trucks drive over 94 billion miles throughout the United States each year to deliver food and other goods but, while important to the economy, these large vehicles also pose a risk to other drivers.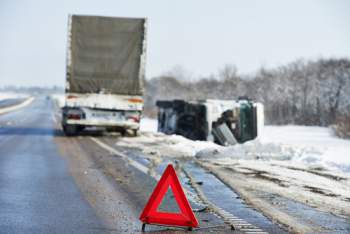 There is no surprise that 18-wheeler accidents are often devastating and more likely to result in fatalities than car accidents. Semi trucks weigh anywhere from 10,000 to 80,000 pounds and account for almost 3,400 fatal traffic accidents and 60,000 traffic injuries every year. California has the country's third-highest number of semi truck registrations and the second-most fatal commercial truck accidents in the country.
According to state data, about 1 out of 8 traffic deaths involve an 18-wheeler collision. While they account for only 4% of vehicles on the road, they are involved in more than 12% of traffic fatalities. About two-thirds of fatal accidents happen on rural roads where traffic is less, but one-quarter occur on interstate highways like the Santa Ana Freeway, San Diego Freeway, and San Gabriel River Freeway.
Common Semi Truck Accidents in Orange County
Collisions can occur in many ways, but the following are the most common commercial truck accidents.
Jackknife. When the driver suddenly brakes, a jackknife can occur as the back of the trailer swings out of sync with the tractor. While the driver can sometimes regain control of the trailer, these accidents can be very serious.
Rollover. The truck's wheels can leave the road due to many factors like the height of the truck trailer, sudden braking, high speeds, and high winds. Rollover accidents are very dangerous as there is a high chance that nearby vehicles will become involved.
Blowouts. A blown tire can cause an accident with any vehicle, but it can be especially serious with a heavy duty truck as the driver can lose control of a vehicle that weighs tens of thousands of pounds.
Under-ride collision. Under-ride collisions are often fatal or very serious accidents. These accidents occur when a vehicle slides underneath the truck's trailer during a collision. Depending on the speed of the vehicles, this can cause the windshield and top portion of the vehicle to be sheared off.
Lane change collisions. Big rigs have large blind spots and commercial truck drivers must rely on their side mirrors alone to determine when it is safe to change lanes. Blind spots often prevent full visibility that can lead to unsafe lane changes and collisions.
Negligence is often a factor in commercial truck accidents in Orange County. Sometimes it is the driver, truck manufacturer, or trucking company that is liable, but it may be the motor vehicle driver as well. When the driver or manufacturer is at fault, reasons may include speeding, mechanical problems, heavy or unsafe loads, cell phone use, aggressive driving, unsafe equipment due to negligent maintenance or inspections, negligent hiring or supervision of drivers, or fatigue due to lack of sleep and overdriving.
Contact an Orange County Truck Accident Attorney Today
If you or someone you love has been injured in an 18 wheeler accident in Orange County, California, it's important to seek legal representation as soon as possible to protect your rights and get help recovering fair compensation for your medical costs, lost income, and pain and suffering. Contact Rawa Law Group today to schedule a free consultation with an experienced 18-wheeler accident attorney in Orange County to discuss your case.
Other Cities That We Service: Santa Ana, Anaheim, Irvine, Huntington Beach, Garden Grove, Oceanside
Orange, Fullerton, Costa Mesa, Mission Viejo, Westminster, Newport Beach
You will also get the chance to receive ethical legal advice with no hidden charges. Hurry now to hire a dependable truck accident attorney in Orange, CA by reaching out to Rawa Law Group today.
Rawa Law Group
5843 Pine Ave
Chino Hills, CA 91709