Orange County California Bus Accident Attorneys
Public transportation and bus travel are safer than traveling by car, but bus accidents can and do occur. Bus accidents tend to be very serious and result in serious injury and even death for a greater number of passengers.
In Orange County, bus drivers and operators have a duty to provide riders with safe transportation. Despite this, more than 1,000 people are hurt in bus accidents each year. Sometimes these accidents are caused by other drivers on the road, but they may also be the result of a poorly maintained bus, bus defects like bad brakes, bus driver negligence, or negligent training.
If you or someone you love has been seriously hurt in an OCTA, school bus, or charter bus accident in Orange County, an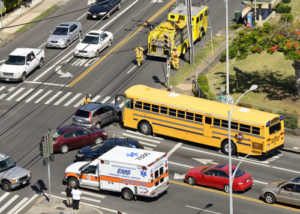 experienced personal injury attorney can help you understand your legal rights and seek compensation against the responsible parties.
Bus Accidents in Orange County
Bus accidents are among the most deadly traffic accidents in the Orange County area for many reasons, including the size of the vehicle, the number of passengers on board, a lack of seat belts and airbags, and the fact that buses are prone to flipping in a collision. Bus accidents may occur for many reasons. The vehicle may strike a fixed object like a telephone pole, strike a pedestrian, get into a collision with another vehicle, lose control, malfunction, or stop suddenly, any of which can result in injuries.
Bus accidents often lead to serious and lifelong consequences for passengers, including whiplash, fractures, nerve damage, amputation, torn ligaments, spinal cord injuries, and traumatic brain injuries.
Orange County Bus Accident Liability
Bus accidents can be caused by many factors. Driver error, negligence, and recklessness are usually behind most accidents, whether the driver was under the influence, failing to obey traffic laws, or speeding. California holds bus drivers to very strict standards and requires that they show diligence and due care to protect passengers. Drivers who were negligent can be held liable for injuries sustained in an accident.
Sometimes the bus driver is not at fault for an accident as buses can malfunction due to defective parts or  maintenance. In fact, research suggests that improper maintenance is a leading factor in many charter and school bus accidents. A bus line operator may also be liable if the drivers were not trained properly or were inexperienced.
If the bus is operated by a government entity, accident victims will find their case even more complex as California law requires a claim be filed within 180 days.
Contact an Orange County Bus Accident Injury Lawyer
If you have been hurt in a bus accident involving a charter bus, school bus, or OCTA transportation, it is important to take immediate action to preserve your rights. A California bus accident attorney can help you understand your legal rights and options and pursue fair compensation for your damages. Contact Rawa Law Group today for a free consultation with an experienced bus accident attorney to discuss your case.
Other Cities That We Service: Santa Ana, Anaheim, Irvine, Huntington Beach, Garden Grove, Oceanside
Orange, Fullerton, Costa Mesa, Mission Viejo, Westminster, Newport Beach