The Premier Bicycle Accident Attorney in Orange County California
Bicycling can be more than an enjoyable past time, it can also be a healthy and affordable way to commute to work. While Southern California officials have increasingly called on residents to turn to bicycling to meet emissions standards and reduce the number of vehicles on the roads, bicycle traffic fatalities have increased. The bridge over Broadway in Santa Ana has been identified as an especially dangerous area for bicyclists as there is no sidewalk or bike lane. According to the California Highway Patrol, bicycle accidents increased 40% between 2002 and 2013 with about 1,400 injuries per year reported in Oran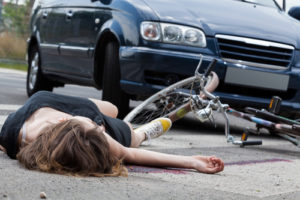 ge County.
Despite progress in the number of bike lanes throughout the county and improved outreach to bicyclists and motorists, the fact remains that bicycle accidents are all too common and often result in serious injuries and fatalities. In Orange County, bicyclists are especially at risk when they navigate roads that are designed to favor cars, trucks, and even pedestrians over bicycles. Along with threats from traffic and motorists, bicyclists face other hazards in cracked pavement and slick roadways.
In Orange County, bicycle accidents may occur for many reasons like:
Vehicles intruding into bicycle lanes
Being hit while riding on the sidewalk
Vehicle backing out of or turning into a driveway
Bicycle sideswiped by a vehicle turning at an intersection
Driver failing to stop at a red light or stop sign
Distracted drivers
Child cyclist playing or riding too fast
As with motorcyclists, bicyclists are at a high risk of fatality and significant injury in an accident. Bicycle accidents often result in spinal injuries, traumatic brain injuries, lacerations, fractures, amputation, and disfigurement.
Schedule a Consultation with an Orange County Bike Accident Attorney
If you or someone you love has been hurt in a bicycle accident in Orange County, it's important to protect your rights by contacting a personal injury attorney. You may be entitled to compensation for current and future medical expenses, emotional distress, lost wages, reduced earning capacity, and pain and suffering. Contact Rawa Law Group today for a free consultation with an experienced bicycle accident injury lawyer in Orange County who will help you understand complex legal rights and options.
Other Cities That We Service: Santa Ana, Anaheim, Irvine, Huntington Beach, Garden Grove, Oceanside
Orange, Fullerton, Costa Mesa, Mission Viejo, Westminster, Newport Beach