Orange County's Superior Heavy Machinery Accident Attorney
Heavy machinery is used on nearly every construction site in Orange County. While these machines make work more efficient, they also contribute to many workplace injuries and fatalities. Nearly 100,000 injuries occur annually on worksites across the country that involve heavy machinery like cranes and bulldozers. Accidents involving heavy machinery often lead to catastrophic and life-changing injuries.
Workers who have been injured in heavy equipment accidents on the job may be subject to a variety of legal challenges, difficulty maintaining a household due to lost wages from being out of work, eventual unemployment and loss of livelihood due to being unable to return to work, numerous insurance company dealings, and/or complications with the payment of medical bills and physical therapies for serious heavy equipment-related injuries such as:
Back Injuries
Concussions
Burn Injuries
Skull Fractures
Amputations
Paralysis (sometimes permanent)
Internal Injuries
If you have been injured in a heavy machinery accident in Orange County, an experienced personal injury attorney can help you seek fair compensation for your injuries.
Machinery Accidents in Orange County, California
California has the third-highest number of construction fatalities in the country at more than 40 each year. The construction injury is also the second-most deadly industry in the U.S. with almost 20% of all workplace deaths occurring in construction. Heavy machinery is one of the greatest hazards on any worksite.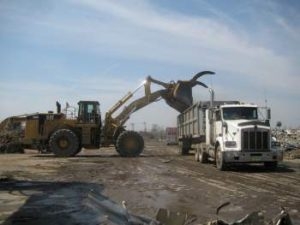 Heavy equipment includes any heavy-duty vehicles or large machines that may be used in construction, including trucks, forklifts, cranes, excavators, and bulldozers. An injured construction worker or his/her family may be entitled to fair compensation for the damages suffered as a result of a heavy equipment accident. Unfortunately, he or she may face major challenges in achieving that goal without the help of an experienced attorney who can help not only define the party at fault in the accident, but also identify how the injured party can either be compensated for irreversible damages, and/or begin to recover the financial resources they've lost.
Employees injured on the job in Orange County have the right to workers' comp benefits through their employer's insurance plan. You may also have a third party personal injury claim if someone other than your employer contributed to your accident through recklessness or negligence. For example, equipment manufacturers may also be liable for heavy machinery accidents in Orange County due to equipment defects. Even parties responsible for the maintenance and service of machinery may have some liability if there is an accident.
Contact a Heavy Machinery Injury Attorney Today
If you or someone you love has been injured in a construction accident in Orange County, California, a personal injury attorney can help you protect your rights and seek fair compensation. We will investigate your accident and seek to identify all parties who may be liable to pursue maximum compensation for your injuries. Contact Rawa Law Group today for a free consultation with an experienced construction site injury attorney who review your case.
Other Cities That We Service: Santa Ana, Anaheim, Irvine, Huntington Beach, Garden Grove, Oceanside
Orange, Fullerton, Costa Mesa, Mission Viejo, Westminster, Newport Beach