Motorcycle accidents are common nowadays because of the high rate of reckless driving. One minute you're on your bike and the next you can be wriggling in pains with severe injuries. However, your injuries shouldn't be just another everyday occurrence. You can make a claim and receive the full settlement if you employ the services of a motorcycle accident attorney.
San Diego, being a major city in CA, sees quite a high number of motorcycle accidents and there will always be a need to hire a topnotch motorcycle accident attorney in the city.
Most topnotch motorcycle accident attorneys work for Rawa Law Group.
Rawa Law Group is a 5-star legal firm that has served California for more than 55 years and boasts of its massive experience in the delivery of positive results on accident cases. We are a firm that advocates strongly for the injured and offer you the needed legal representation to ensure you get full compensation for your distress. Our topnotch attorneys are very cooperative and ensure that your appointments with us are sewn to fit your schedule.
We help you to own the case and exert presence by letting you know about our dealings on your case from the beginning to the finish.
You should note that at Rawa Law Group, we do not charge you any upfront costs – so you do not have to worry about expenses or paying us until we have won your case; something we are sure of doing!
San Diego's Most Excellent Motorcycle Accident Lawyers
California is home to the country's greatest number of licensed motorcyclists. While this is no surprise with our year-round sunshine and scenic roads to explore, California also has a somewhat unique law that increases the risk for motorcyclists. In San Diego and elsewhere in the state, it is legal for motorcyclists to drive between lanes in a practice called lane splitting. This is merely one factor that places motorcyclists at risk on our roadways.
Motorcyclists are the most vulnerable motorists on California roadways and tend to suffer the most severe injuries in an accident. Motorcycle accidents are also 35 times more likely to be fatal than car accidents.
If you or a loved one has been hurt in a motorcycle accident, a San Diego motorcycle accident injury lawyer can help you explore your legal options and seek the compensation you deserve.
Unfortunately, even the most careful motorcycle rider can get into an accident. Motorcycles by their very nature pose a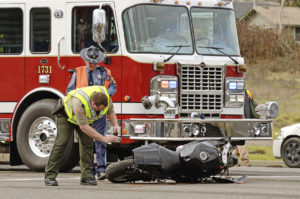 greater risk than an automobile as they do not protect riders in the case of an accident. The following are the most common factors that contribute to San Diego motorcycle crashes.
ALCOHOL AND SPEEDING
Speeding and/or alcohol are a factor in more than half of all motorcycle accidents in San Diego. Accidents involving speeding or alcohol often lead to serious harm or death.
VEHICLE TURNING LEFT
More than 40% of motorcycle accidents involve a vehicle making a left turn, usually when a motorcyclist is going straight through an intersection or trying to pass a vehicle. In most cases, a vehicle that hits another vehicle while turning left is at fault for the accident, but the motorcycle rider may share some liability if the motorcyclist was speeding or driving in the wrong lane.
LANE SPLITTING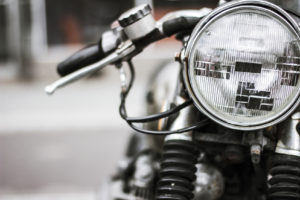 While legal, lane splitting is often disastrous for motorcyclists. Lane splitting, or driving between traffic lanes to pass stopped or slow traffic, can lead to an accident due to close proximity to vehicles, reduced space for maneuvering, and the fact that cars will not anticipate anything between lanes.
HEAD-ON COLLISIONS
More than half of all motorcycle fatalities involve collisions with other vehicles, and three-quarters of these accidents involve the vehicle striking the motorcycle from the front.
ROAD HAZARDS
Motorcycles are more vulnerable to potholes, slick pavement, and uneven lane heights than vehicles because they are less stable. A rider may be thrown from a motorcycle after hitting a road hazard like gravel.
CONTACT A SAN DIEGO MOTORCYCLE INJURY LAWYER
If you have been injured in a motorcycle accident in California, do not speak to the insurance company before you talk to a personal injury attorney. Remember that the insurance adjuster is not working on your behalf; their job is limiting payouts for the insurance company. Contact Rawa Law Group todayfor a free consultation with an experienced San Diego motorcycle injury attorney to explore your legal options and discuss your case.
To hire a topnotch motorcycle accident attorney in San Diego, CA, all you have to do is contact us at Rawa Law Group via the address below.
Rawa Law Group
5843 Pine Ave
Chino Hills, CA 91709