Your First-Rate Attorney for Pedestrian Accidents in San Bernardino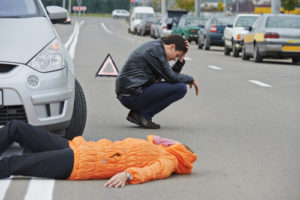 California leads the nation in pedestrian deaths year after year due to heavy reliance on foot traffic in major cities and metropolitan areas in California like San Bernardino, Los Angeles, and San Diego. 19% of all traffic fatalities in California are pedestrians, according to the state Department of Motor Vehicles (DMV). More than 700 pedestrian died in motor vehicle accidents in California in 2014. 70% of all pedestrian fatalities occur at night between 6pm and 6am as the sun sets and pedestrians are harder to see by motorists.
California Pedestrian Laws & Liability 
With one of the highest populations of pedestrians in America, California has strict right-of-way laws designed to protect pedestrians in almost all situations. Typically, pedestrian accidents occur when motor drivers fail to adhere to these laws.
Drivers MUST yield the right-of-way to pedestrians, stopping on marked or unmarked crosswalks and intersections.
Motorists may not drive on sidewalks or bicycle paths.
Drivers must stop and yield to pedestrians and vehicles leaving driveways and parking lots.
Even if a pedestrian is not on a clearly marked crosswalk, drivers must show due caution.
Pedestrian Accident Liability in San Bernardino
In the event a pedestrian is injured in an accident, said pedestrian has the right under California law to seek financial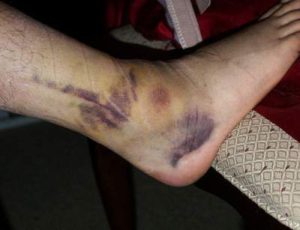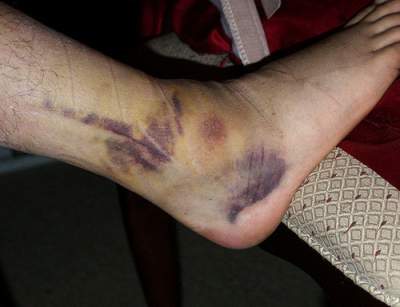 compensation for medical expenses, lost wages, or emotional suffering. Rarely pedestrians are found at fault for accidents as negligent driving is typically the cause of pedestrian injury in San Bernardino. Drunk or impaired driving, running red lights, traveling over the speed limit, failure to stop or yield at crosswalks, distracted driving, and illegal parking (blocking view) all contribute to rising pedestrian accident rates across California.
You have the right as an injured pedestrian to receive compensation for medical expenses, property damage, lost wages, and in many cases, punitive damages. Even if the motorist was uninsured, an experienced personal injury attorney at Rawa Law Group may secure compensation through your own insurance policy.
Contact a San Bernardino Pedestrian Attorney Immediately
Insurance companies are notorious for denying claims or offering the lowest settlement possible. An experienced pedestrian attorney in San Bernardino can protect your rights and ensure the maximum compensation possible for your case. Contact the personal injury attorneys at Rawa Law Group for a free consultation today.
Rawa Law Group
5843 Pine Ave
Chino Hills, CA 91709