Looking For a Train Accident Lawyer in Riverside Ca.
Train travel is generally considered one of the safest ways to travel, but that doesn't mean it's risk-free. Many train collisions have made headlines in California in recent years, although train accidents are not limited to collisions between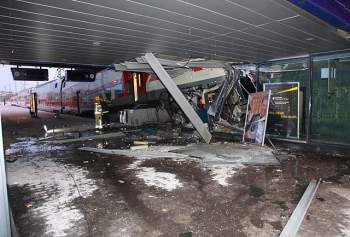 two trains.
Sometimes train accidents involve trains hitting cars on the line or even trains striking pedestrians. According to the Federal Railroad Administration, there are nearly 12,000 train incidents and accidents each year, more than 50 of which involve passenger trains.
If you or someone you love has been the victim of a train accident in the Riverside area, you may be entitled to recover compensation for damages. A personal injury attorney in Riverside who is experienced with train accident claims can help you protect your rights and seek compensation.
Train-Related Accidents in Riverside
Train and Metrolink accidents in California may occur in many ways. Accidents can include train collisions, derailments, accidents involving pedestrians, and accidents involving cars or other vehicles. Serious injuries can occur in collisions and wrecks but also on train platforms, crossings, and stations.
Liability in a Railroad or Train Accident
There are many potential causes of a train accident, and many of these causes may lead to a claim for compensation. Common causes include mechanical failure, negligent maintenance of the tracks, and distracted train operators.
If a lawsuit will be filed against a transit operator in California, there is a very specific statute of limitations and notice requirements that must be met. Federal law caps liability to $200 million in passenger rail accidents, no matter how many people were hurt and how negligent the rail operator was.
Hire a Team of Personal Injury Attorneys
If a party other than the transit authority was liable, a skilled train accident personal injury attorney will employ a team of reconstruction analysts and investigators to determine who was at fault. In some cases, train equipment designers and manufacturers may be at fault for a train derailment.
Each train accident is unique as the accident may have one cause or many. Your attorney will help you determine who was at fault for the accident.
Depending on your case, the responsible party or parties may be:
The track owner. The entity or company that owns or controls the track at which the accident occurred owes a duty to rail workers and passengers to keep the tracks in a safe condition.
Vehicle driver. If the train accident was the result of a collision with a truck or car on the tracks, the vehicle's driver may be liable.
Equipment manufacturer. The accident may have been the result of equipment failure on the train. If the equipment was defective, the manufacturer may be liable for damages.
The company that owns or operates the train. Passenger train companies are responsible for keeping trains, rail cars, and equipment in good, working order. The company may also be responsible for hiring, training, and supervising employees and making sure they are not overworked.
Contact a Train Accident Attorney in Riverside Today
If you or someone you love has been injured or killed in a train accident in California, you may have the right to compensation. A train accident attorney can help you decide if you qualify for damages for medical costs, property damage, lost wages, impaired earning capacity, pain and suffering, and/or wrongful death.
Contact an experienced Riverside train accident lawyer at Rawa Law Group here today for a free consultation to discuss your case.
The next service that we are going to discuss is a plane accident attorney of Riverside California, learn more by clicking the link.
Other Cities That We Service: Moreno Valley, Corona, Murrieta, Temecula, Hemet