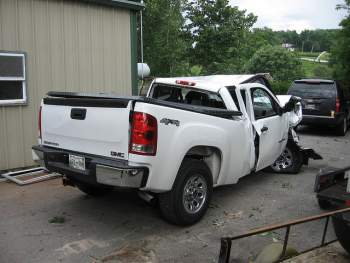 Picture this: You are driving down the highway carefully. It is the middle of the night and you're paying close attention to the roadways and everybody else on them. Suddenly, out of nowhere, a truck going extremely high speeds sideswipes you and you are instantly injured as a result. Later on, after spending weeks in the hospital, you come to find that the truck driver was speeding because he was attempting to get to his work destination in a minimal amount of time, and he had also not slept in over a day. Unfortunately, this is the end result for many victims of trucking accidents every year. Now you can find out about trucking accident claims, how these accidents happen, and what your case may be worth.
The U.S. Department of Transportation (DOT) compiles data each and every year to show the general public that trucking accidents are more serious than they may seem. For instance, you may not have known it but approximately 500,000 trucking accidents happen every year in the U.S. 5,000 of these accidents are especially serious and end in fatalities, where one driver or even passengers are killed. Nobody realizes how severe an accident can be with one of these giants based on their size alone. Many of these accidents will occur because of drunk driving, but of course this is not the only factor. If people do not become aware of how they can prevent these accidents, nothing will change. And in a world where the commercial trucking industry is growing so quickly and on such a large scale, this spells out bad news. (2)
Most Common Causes of Trucking Accidents
There are some causes of trucking accidents that are more common than others. Typically, the difference in weight and speeds can cause the most serious of accidents. Here are some of the most common causes in these accidents:
Fatigue: Driver fatigue is one of the most concerning issues in trucking, according to the National Highway Traffic Safety Administration who warns against it. Truck drivers must drive thousands of miles in their missions across many states, and only in a few days' time in many cases. Many companies will give drivers incentive to travel further in a small amount of time for more money. Federal regulations have been put in place to limit the number of hours that a trucker is able to drive in one day, even if it can't prevent every accident.
Improper Maintenance: If a truck is being operated, it must also be in the best condition. If a vehicle is not maintained properly, it could lead to a serious accident. Some of the most commonly "missed" items are faulty braking systems, worn tires, and unsafe trailers. This is why trucking companies need to check their trucks before each trip.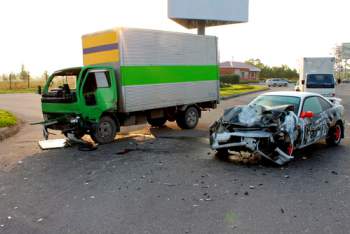 Distracted Driving: This is not only a concern with trucks, but also with passenger vehicles. One of the most common types of distracted driving stems from using a cell phone while driving. It can also include playing with the radio, using a GPS, and eating. When you are driving as long as a trucker does, you may feel inclined to participate in any of these actions. However, it can just lead to dangers.
Inexperience: Trucking companies will boast that they have jobs available for all truckers. They will then train new drivers to take fast-paced courses and send them right out into the field. However, this leads to inadequate training and inexperience. A company may believe that, by hiring new trainees, they are saving money. However, the costs associated with accidents may say otherwise.
Improper Loading: If somebody improperly loads the cargo onto a truck, it could spell issues. Those who are inexperienced with this could fail to properly distribute the weight. This could cause a truck to jackknife on the roadways. (2)
Who is Liable?
In a trucking accident, you will have to show negligence by the driver. As the plaintiff, you must show the courts that a defendant owed you a duty of case. In this case, this means being careful around other drivers, passengers, and pedestrians. The defendant must have breached this care and, in return, this led to damages in your life. In trucking accident cases, there may be many different defendants to identify or even a few at a time. You may be surprised to hear that more than just the driver may be to blame. Here are some of the defendants who may be held legally liable in your case:
The trucking company
Contractors
Employer
Insurance Company
Parts manufacturer (3)
Damages in Trucking Accidents
In a trucking accident, if you were injured as a result of another person's negligence, you should be compensated for your injuries. This is where a lawsuit comes in to gain compensation for your injuries and "give back" to make you whole after you have suffered substantially. Of course, you are entitled to many damages, which we will explain shortly. However, you may also be entitled to punitive damages if a trucker acted in bad faith and you believe they intended to cause harm, such as in drunk driving cases. Here is an overview of some of the other damages you may be entitled to, depending on your case:
Medical Costs: You may have found that you are taking care of substantial medical bills after your accident. In this case, you can recover these damages from the truck driver who caused your accident. Bringing a lawsuit may save you thousands of dollars.
Lost Productivity: You may have lost wages from missing time at work due to your injury. In some cases, the injuries may be so severe that you can never return to your job. Lost productivity can cause you and your family to struggle, so you can be compensated for these costs.
Lost Quality of Life: This is your pain and suffering and ability to enjoy activities you once had before the accident. It is not easy to put a number on these damages. (4)
Speaking to an Attorney
After you are injured in a trucking accident, the best course of action you can take is seeking medical attention immediately to assess your injuries in full. However, when everything is said and done, talking to an attorney can be your best option. Not only can you recover damages, but you can move on with your life knowing you can get back on your feet. Trucking accidents can be extremely serious and completely complex, so choose us to handle your case. Call The RAWA Law Group today and speak to an attorney you can trust with your case!
References:
Call us FREE at 844-444-1400 for a FREE Consultation
Other Cities That We Service: Fontana, Rancho Cucamonga, Ontario, Victorville, Hesperia, Chino,Los Angeles, Long Beach, Glendale, Pasadena, Inglewood, Santa Ana, Anaheim, Newport Beach, Irvine, City of Orange,Huntington Beach, Garden Grove, Oceanside, Costa Mesa, San Diego, Chula Vista, El Cajon, Pomona, El Monte Downey,West Covina, Orange County, Fullerton, Riverside, Moreno Valley, Corona, Murrieta, Temecula, Hemet, San Bernardino, Chino Hills