Slip and fall accidents happen all the time, but can be extremely difficult to prove fault. These accidents can be extremely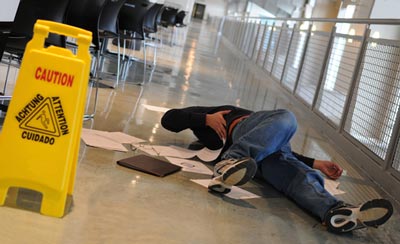 dangerous, causing serious injuries to the back and head. It is important to be able to determine who is liable in these cases so that you can receive the damages that you are entitled to.
Slip and Fall Conditions
First and foremost, it is important to understand what conditions you may come into contact with in a slip and fall accident. Slip and falls can happen inside and outside for a variety of different reasons. Here are some examples of both:
Indoor Accidents:

Indoor accidents can happen for a wide variety of reasons, starting with slippery floors. Sometimes employees will mop, wax, or polish their floors and a slip and fall accident will happen as a result. A property owner could be held liable if they did not provide adequate warnings or barriers to close off an area when it was slippery. A customer could also fall on stairs that have become worn with use. Stair edges can become rounded when stepped on over time, causing dangerous conditions. An employer also has the responsibility of checking to ensure that their handrails are usable and not damaged. (1)

Outdoor Accidents:

Slip and fall accidents can happen outside, too. Ice or snow outside a building can contribute to an accident if the business owner did not remove the snowy conditions. Inadequate outdoor lighting can also lead to a fall. An owner is responsible for not only maintaining a parking lot but also installing lighting when there are obstacles that could lead to a fall. An owner, lastly, may also be responsible for accidents that happen on sidewalks because they are responsible for caring for their own sidewalk. (2)
After You Have Been Injured
Before we determine who may be liable for your accident, it is important to understand what to do after your accident occurs. This is important information to understand because expenses can add up after you have been injured and sure enough, you may be accruing medical expenses, lost wages, or pain and suffering. Your actions after the accident will determine how much you can receive through your claim later on. Here are some steps you should take:
Medical Treatment: After a slip and fall accident, perhaps you didn't sustain many injuries. However, some people sustain many injuries such as broken bones, head trauma, and internal injuries. You should not only seek attention for your injuries for the sake of your health, but also to obtain a professional diagnosis that you can show the courts.
Inspect Area: Look around for the cause of your accident and write down your version of the story based on how you remember it. This will help your attorney determine how to handle your case and who will be held liable for your injuries.
Identify Witnesses: If somebody witnessed the accident, make sure that you get their names, addresses, and phone numbers. He or she could be of utmost importance when your case sees the courtroom.
Follow Procedures: You should always ask a business owner if you should fill out a slip and fall accident report. You should also make the store aware of your accident immediately after it occurs.

Take Photographs: Try your best to take pictures of the scene immediately after your accident takes place. This will tell a better story about how the slip and fall actually occurred according to you. This is the best way to retain a record of exactly how it happened to you. (3)
Figuring the Cost of Your Injuries
If you were injured in a slip and fall on someone else's property, you may be contemplating a lawsuit and wondering how much your claim may be worth when it goes in front of a judge. In calculating your damages, one of the biggest factors to be considered is your bills for past and future medical treatment, as this could directly affect you for months or years to come. When it comes to showing proof of your bills, the judge may consider paying your bills in full based on how much the healthcare provider billed. If you have a valid and accepted slip and fall claim, it is safe to say that the least you will receive will probably be the value of your medical bills.
However, most of the time your damages do not end there – you may qualify for pain and suffering as well. There is really no perfect number placed on a slip and fall case in regards to pain and suffering; however, most of the time it will start with a look at your medical bills. Attorneys and insurance adjusters will usually look at a proper multiplier as well as your medical bills to determine the best amount of how much to pay you. Usually, your pain and suffering will be five times the value of your medical bills.
Lastly, they will consider lost wages and loss of earning capacity. If you missed work due to injuries, you will probably be compensated for the wages that you would have earned if you had been working. However, you will have to show verification to the courts of how much you really lost. To show loss of earning capacity, you must be able to show that you would have been able to make more money had it not been for your injury. You will need to show proof of evaluation of your injuries, your occupation, and prospects for future work.  
Having Your Case Reviewed
Was negligence at play in your case and contributed to your accident. Under other normal circumstances, would this accident have happened? These are questions you must be determined to answer in regards to your case. (4) Call us today for a slip and fall case review and we will tell you what your case is worth.

If you have been injured due to someone else's negligence and caused a slip and fall accident, the Rawa Law Group APC might be able to help you. Click the link to contact us and scheule a appointment with us.

Resources:
Other Cities That We Service: Fontana, Rancho Cucamonga, Ontario, Victorville, Hesperia, Chino,Los Angeles, Long Beach, Glendale, Pasadena, Inglewood, Santa Ana, Anaheim, Newport Beach, Irvine, City of Orange,Huntington Beach, Garden Grove, Oceanside, Costa Mesa, San Diego, Chula Vista, El Cajon, Pomona, El Monte Downey,West Covina, Orange County, Fullerton, Riverside, Moreno Valley, Corona, Murrieta, Temecula, Hemet, San Bernardino, Chino Hills