So. CA's Most Trusted Nursing Home Neglect Lawyer
Deciding to place a loved one or family member in a nursing home or assisted living facility is a difficult and important decision for many people. A great deal of trust is placed in the hands of the caregivers who will take care of your loved ones. Many cases are reported every year though where residents suffer from neglect and abuse while they are living in nursing homes. The National Center on Elder Abuse states that in more than 30% of all the nursing homes in the United States, residents suffer from abuse of some kind. Statistics also show that over half of all nursing homes and assisted living facilities do not have enough staff. The less than ideal conditions often lead to more cases of abuse in nursing homes throughout California. It is important to seek the help of a skilled attorney who will protect your rights. At the Rawa Law Group, we have represented victims of nursing home neglect and help them get the compensation they deserve.
Signs of Abuse
When abuse occurs in nursing homes, it's an unfortunate occurrence but important to know the signs so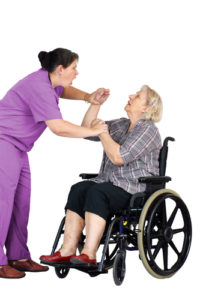 that it can be stopped immediately. Some obvious signs to look for include:
Bruising or bleeding that is unusual
Appearance of bed sores, cuts or other open wounds
Changes in weight that is unexpected and sudden
Poor hygiene and signs of soiling and urine
Infections, burns and scrapes
Hair loss
Clothing or bedding that is ripped, stained or bloody
Rights of Nursing Home Residents
The nursing homes in California must abide by certain laws that protect the rights of their residents. Facilities throughout the state are subject to a long list of policies of operation. When caretakers and staff members at nursing facilities fail to adhere to these standards and regulations, they can be held liable when residents suffer injuries or abuse as a result of the negligence. If you or a loved one has been the victim of nursing home neglect, contact the personal injury attorneys at the Rawa Law Group to get a free and confidential consultation of your case. You may be able to receive compensation for the injuries, pain and suffering that you have experienced.
Call us FREE at 844-444-1400 for a FREE Consultation
Other Cities That We Service: Fontana, Rancho Cucamonga, Ontario, Victorville, Hesperia, Chino,Los Angeles, Long Beach, Glendale, Pasadena, Inglewood, Santa Ana, Anaheim, Newport Beach, Irvine, City of Orange,Huntington Beach, Garden Grove, Oceanside, Costa Mesa, San Diego, Chula Vista, El Cajon, Pomona, El Monte Downey,West Covina, Orange County, Fullerton, Riverside, Moreno Valley, Corona, Murrieta, Temecula, Hemet, San Bernardino, Chino Hills