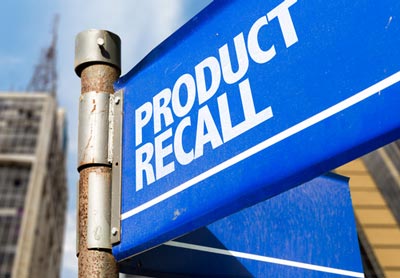 Every year, thousands of people are injured by products and something known as "product liability law" comes into play. These laws relate to who is responsible for defective or dangerous products and set the rules for how somebody can recover damages. The courts look at matters like this: Product manufacturers and sellers are responsible for keeping consumers safe, and can be held liable if they release a defective or dangerous product onto shelves. Product liability laws are upheld by the state and fall under negligence, strict liability, or breaches in warranty. (1)
Product Recalls of History
There have been many famous product recalls in history. Here are some of the most famous:
Bottles of Johnson & Johnson's Tylenol being laced with potassium cyanide, which led to the deaths of seven people around Chicago in 1982 causing $100 million in costs

Bridgestone tire failures that resulted in 200 deaths and 3,000 major injuries in 2000, leading to $440 billion in recall-related costs

Merck's Vioxx arthritis drug, which caused people to suffer heart attacks and strokes, leading to $4.85 billion to settle 27,000 lawsuits stemming from the drug

Sony recalling more than 4 million Dell Laptops in 2006 due to a fire threat from overheating (2)
Types of Strict Liability Involving Products
Design Defects: Design defects are mistakes that were made when the product was first manufactured or when modifications were made to it. An example of this is when a designer makes an electric radio without insulated wires and they catch fire in the hands of consumers.
Manufacturing Defects: If the product's design was not faulty, a manufacturing defect can still occur. Sometimes a product becomes flawed after it comes off the assembly line. An example of this is an oven missing its screws, causing doors to fall off by the time they reached people's homes.
Marketing Defects: Even if the product was not defective in its design and manufacturing, it can still end up being defective. In some cases, the manufacturer does not provide the user with enough information about the product. An example of this is if a manufacturer failed to properly warn people that taking too much of a diet supplement would cause them illness, and people became sick due to it.
When a defective product case takes place, the victim does not need circumstantial evidence to prove that negligence was at play. The victim only needs to come to court to speak on behalf of the fact that he or she was injured, and show the product that caused injuries. However, the victim must be able to stand trial through something known as the discovery process, where the product's defects are truly discovered for the first time. An attorney might have to bring forth design documents, speak with the company's product designers, or conduct independent product testing. (3)
Unfortunately, some products will always be inherently dangerous, no matter what modifications are made to it. For example, what if you had an electric knife that was so dull that it could not cause you injury? However, that also means that the knife would not be able to complete its intended purpose as well. This is where it becomes the responsibility of the manufacturer to give proper warnings of the dangers and risks of products so that consumers can made informed decisions regarding the product and how to take special care.
Manufacturers Using Defenses
In many product liability cases, the manufacturer or other involved companies will use a defense to attempt and show that they were not selling a defective product and that you are at fault for your own injuries. One of the most famous defenses that manufacturers will use is that the plaintiff has not sufficiently identified the supplier of the product which caused their injury. If the plaintiff fails to identify the responsible company, then they may not have a case unless it is for a defective drug. A manufacturer may also use the defense that the plaintiff altered the product in some way, causing the product to injure them. To go hand in hand with this, they may also use the defense that the product was misused, and this misuse lead to the injury. (1)
How an Attorney Can Help You
If you have been injured by a product that you used properly and believe that you qualify for a lawsuit, the best thing that you can do is seek help through an experienced product liability attorney. Getting injured by a product can be a traumatic experience, because you never believe that it will happen to you. You have a legal right to take a legal action against the responsible party, and having us on your side will make it easier to identify the responsible parties to move forward with your case. However, if you are going to succeed in a negligence claim against a company, you must be able to show that the manufacturer owed you a duty, that they breached the duty, that the breach of duty caused your injuries, and that you suffered damages as a result of this negligence.
Did you suffer actual damages in your case? It will be important to speak to us so that we can work together to estimate your damages in advance. If you have only received minor injuries that did not cause you any financial losses, it is not wise to move forward with a claim. However, if a product caused you serious and debilitating losses and medical treatment, it is wise to have an attorney and bring forth a claim. We will help you in all aspects of your case, including law research, witness interviews, record collection, legal strategy planning, and negotiations. (4) Call us today for more information on how we can help you move forward with your product liability case. We will help you every step of the way.
If you have been injured by a defective product, call us today to discuss your case with a defective product liability attorney. Call us at 844-444-1400 or you can contact us at the following website, click this link to learn more.
Resources:
(1) https://injury.findlaw.com/product-liability/what-is-product-liability.html
(2) https://www.bloomberg.com/news/photo-essays/2013-01-17/the-most-expensive-product-recalls
(3) https://injury-law.freeadvice.com/injury-law/defective_products/product_liability_basis.htm
(4) https://injury.findlaw.com/product-liability/get-legal-help-with-a-defective-product-injury.html
Call us FREE at 844-444-1400 for a FREE Consultation
Other Cities That We Service: Fontana, Rancho Cucamonga, Ontario, Victorville, Hesperia, Chino,Los Angeles, Long Beach, Glendale, Pasadena, Inglewood, Santa Ana, Anaheim, Newport Beach, Irvine, City of Orange,Huntington Beach, Garden Grove, Oceanside, Costa Mesa, San Diego, Chula Vista, El Cajon, Pomona, El Monte Downey,West Covina, Orange County, Fullerton, Riverside, Moreno Valley, Corona, Murrieta, Temecula, Hemet, San Bernardino, Chino Hills