WRONGFUL TERMINATION UNDER CALIFORNIA LAW
Wrongful termination is a situation in which an employee has been fired illegally. "The employer's actions must have been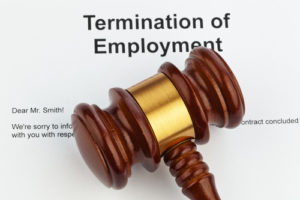 contrary to law" or in "breach of contract". Unless an employment contract exists between an employer and an employee, employment in California is generally presumed to be "at will". This means the employer can fire the employee for any or no reason at all. This also means that an employee can quit for any reason, and at any time. However, if the termination violates a specific employment law, this general rule does not apply. Being terminated for any of the items listed below, may constitute wrongful termination:
Discrimination: The employer cannot terminate employment because the employee is a certain race, nationality, religion, sex, age, sexual orientation, disability, and a variety of other reasons.
Retaliation: An employer cannot fire an employee because the employee filed a claim of discrimination, or filed a workers' compensation claim, or engaged in other protected activities. This "retaliation" is forbidden.
Employee's Refusal to Commit an Illegal Act: An employer is not permitted to fire an employee because the employee refuses to commit an act that is illegal.
Employer is Not Following Own Termination Procedures. Often, the employee's handbook or company policy outlines a procedure that must be followed before an employee is terminated. The employer's failure to follow its own procedures, in firing an employee, may be evidence of discrimination, potentially giving rise to a claim for wrongful termination.
Whistle Blowing: An employer cannot fire an employee for reporting the employer's illegal activity.
Breach of Contract: If an employer and an employee have a contract for employment, and the terms of that contract so require the employer must show "just cause" for firing the employee. Employment contracts may be "expressed or implied".
To prove wrongful termination, a plaintiff or "employee", must show a violation of a statute, such as FEHA, or the existence of a non-statutory cause of action, as wrongful termination in violation of public policy. Proven wrongful termination may lead to two main remedies: reinstatement of the terminated employee; and/or monetary compensation for the wrongfully terminated employee. The law of wrongful termination is complex. It is much to the employee's advantage to consult with a qualified employment attorney, in order to determine whether or not there was, indeed, a wrongful termination. Many times, the victimized employee does not even realize that she has a cause of action against her ex-employer.
If You Believe You Have Been Wrongfully Terminated
Call us FREE at 844-444-1400 for a FREE Consultation
Other Cities That We Service: Fontana, Rancho Cucamonga, Ontario, Victorville, Hesperia, Chino,Los Angeles, Long Beach, Glendale, Pasadena, Inglewood, Santa Ana, Anaheim, Newport Beach, Irvine, City of Orange,Huntington Beach, Garden Grove, Oceanside, Costa Mesa, San Diego, Chula Vista, El Cajon, Pomona, El Monte Downey,West Covina, Orange County, Fullerton, Riverside, Moreno Valley, Corona, Murrieta, Temecula, Hemet, San Bernardino, Chino Hills