FACTS ABOUT SEXUAL HARASSMENT
Sexual harassment is a form of sex discrimination that violates Title VII of the Civil Rights Act of 1964. Title VII applies to employers with 15 or more employees, including state and local governments. It also applies to employment agencies and to labor organizations, as well as to the federal government.
Unwelcome sexual advances, requests for sexual favors, and other verbal or physical conduct of a sexual nature constitute sexual harassment when this conduct explicitly or implicitly affects an individual's employment, unreasonably interferes with an individual's work performance, or creates an intimidating, hostile, or offensive work environment.
Sexual harassment can occur in a variety of circumstances, including but not limited to the following:
The victim as well as the harasser may be a woman or a man. victim does not have to be of the opposite sex.
The harasser can be the victim's supervisor, an agent of the employer, a supervisor in another area, a co-worker, or a non-employee.
The victim does not have to be the person harassed but could be anyone affected by the offensive conduct.
Unlawful sexual harassment may occur without economic injury to or discharge of the victim.
The harasser's conduct must be unwelcome.
It is helpful for the victim to inform the harasser directly that the conduct is unwelcome and must stop. The victim should use any employer complaint mechanism or grievance system available.
When investigating allegations of sexual harassment, EEOC looks at the whole record: the circumstances, such as the nature of the sexual advances, and the context in which the alleged incidents occurred. A determination on the allegations is made from the facts on a case-by-case basis.
Prevention is the best tool to eliminate sexual harassment in the workplace. Employers are encouraged to take steps necessary to prevent sexual harassment from occurring. They should clearly communicate to employees that sexual harassment will not be tolerated. They can do so by providing sexual harassment training to their employees and by establishing an effective complaint or grievance process and taking immediate and appropriate action when an employee complains.
It is also unlawful to retaliate against an individual for opposing employment practices that discriminate based on sex or for filing a discrimination charge, testifying, or participating in any way in an investigation, proceeding, or litigation under Title VII.
DEFINITION OF SEXUAL HARASSMENT
The Fair Employment and Housing Act defines harassment because of sex as including sexual harassment, gender harassment, and harassment based on pregnancy, childbirth, or related medical conditions.
The Fair Employment and Housing Commission regulations define sexual harassment as unwanted sexual advances, or visual, verbal or physical conduct of a sexual nature. This definition includes many forms of offensive behavior and includes gender-based harassment of a person of the same sex as the harasser. The following is a partial list of violations:
Unwanted sexual advances
Offering employment benefits in exchange for sexual favors
Making or threatening reprisals after a negative response to sexual advances
Visual conduct: leering, making sexual gestures, displaying of suggestive objects or pictures, cartoon or posters
Verbal conduct: making or using derogatory comments, epithets, slurs, and jokes
Verbal sexual advances or propositions
Verbal abuse of a sexual nature, graphic verbal commentaries about an individual's body,sexually degrading words used to describe an individual, suggestive or obscene letters, notes or invitations
Physical conduct: touching, assault, impeding or blocking movements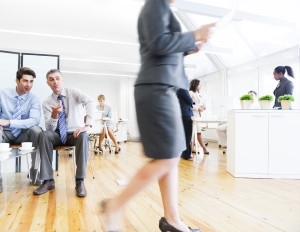 All employers are prohibited from harassing employees in the workplace. If harassment occurs, an employer may be liable even if management was not aware of the harassment. An employer might avoid liability if the harasser is a non-management employee, the employer had no knowledge of the harassment, and there was a program to prevent harassment. If the harasser is a non-management employee, the employer may avoid liability if the employer takes immediate and appropriate corrective action to stop the harassment once the employer learns about it. Employers are strictly liable for harassment by their supervisors or agents. The harasser can be held personally liable for damages. Additionally, Government Code section 12940, subdivision (k), requires an entity to take "all reasonable steps to prevent harassment from occurring." If an employer has failed to take such preventative measures, that employer can be held liable for the harassment. A victim may be entitled to monetary damages even though no employment opportunity has been denied and there is no actual loss of pay or benefits.
If you have been discriminated against or are suffering harassment in the workplace because of your religious, moral, or ethical beliefs please contact our harassment & discrimination attorney at Rawa Law Group. Our experienced attorneys will help put an end to the discriminatory practices, get your employer to make reasonable accommodations of your religious beliefs and practices, and obtain redress of unlawful discrimination and harassment.
Call us FREE at 844-444-1400 for a FREE Consultation
Other Cities That We Service: Fontana, Rancho Cucamonga, Ontario, Victorville, Hesperia, Chino,Los Angeles, Long Beach, Glendale, Pasadena, Inglewood, Santa Ana, Anaheim, Newport Beach, Irvine, City of Orange,Huntington Beach, Garden Grove, Oceanside, Costa Mesa, San Diego, Chula Vista, El Cajon, Pomona, El Monte Downey,West Covina, Orange County, Fullerton, Riverside, Moreno Valley, Corona, Murrieta, Temecula, Hemet, San Bernardino, Chino Hills