PREGNANCY DISCRIMINATION REQUIREMENTS UNDER STATE OF CALIFORNIA AND FEDERAL LAW
For many women, being pregnant is a very natural and normal part of life. It has become increasingly common for women to work throughout their pregnancies up until they are ready to give birth. Unfortunately women are often discriminated against in the workplace because they are pregnant. Although a very natural process, pregnancy does impact women's lives including physical, emotional and other changes. Pregnancy discrimination occurs when a pregnant employee or applicant is unfairly treated because she is pregnant, out for childbirth or experiencing a medical or physical condition that results from pregnancy or childbirth. Pregnancy discrimination is unlawful according to employment laws and companies can be held accountable if they are in violation.
PREGNANT WOMEN ARE ENTITLED TO REASONABLE ACCOMMODATIONS
Employees who become pregnant are entitled to "reasonable accommodations." Reasonableness requires an employer to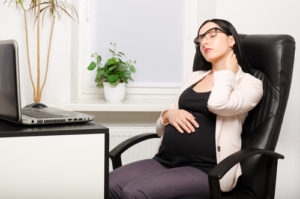 make all accommodations that the pregnant woman needs without being "unduly burdened" to the employer. Undue burden is a measure of the amount of trouble, including monetary expenditures, loss of business, and supervision requirements, it takes for an employer to effectuate a given accommodation. For instance, it usually is not unduly burdensome for an employer to modify a woman's job duties or change her assignment to accommodate her pregnancy.
PREGNANCY FAMILY MEDICAL LEAVE
Under both Federal and State of California laws, employers are required to grant medical leaves for their pregnant employees. The California Fair Employment and Housing Act FEHA entitles pregnant employees to take a leave of absence for a reasonable period of time, not to exceed four months. The pregnant employee is not entitled to pay during her leave of absence but she may is entitled to state disability benefits. and can be required to give reasonable notice to her employer of when her leave will begin and the how long it will last. Additionally, the pregnant employee may take a leave of absence only for a "reasonable period of time" the time period where she is unable to work because of her pregnancy, childbirth, or related medical conditions.
SITUATIONS WHERE PREGNANCY DISCRIMINATION MAY ARISE
Women may be victims of pregnancy discrimination in several situations that are common during employment. The Pregnancy Discrimination Act prohibits this practice during the following times:
During the hiring process
When the company is considering people for promotion
When they are fired or laid off
When their pay is established
The fringe benefits they receive or don't receive
When employees undergo training
During classification practices
For referral and other aspects of employment
Harassment for Pregnancy: It is also an illegal act when someone harasses a female employee for pregnancy, childbirth or any other relative medical condition. Simple teasing is not illegal but frequent derogatory or offensive comments that make the work environment hostile are. Expectant women can suffer discrimination and harassment from supervisors, coworkers and clients/customers. If you believe that you have been discriminated against at your workplace by your employer, supervisor or other employees because you were expecting or taking time off to have your baby then you may be entitled to file a lawsuit against your employer. Pregnancy discrimination law is complicated, please contact a pregnancy discrimination attorneys at Rawa Law Group who can ensure that your rights are protected under state of California and federal law. Rawa Law Group is dedicated to protecting the rights of the working American citizens. Contact us today to find out more about your options and rights.
Call us FREE at 844-444-1400 for a FREE Consultation
Other Cities That We Service: Fontana, Rancho Cucamonga, Ontario, Victorville, Hesperia, Chino,Los Angeles, Long Beach, Glendale, Pasadena, Inglewood, Santa Ana, Anaheim, Newport Beach, Irvine, City of Orange,Huntington Beach, Garden Grove, Oceanside, Costa Mesa, San Diego, Chula Vista, El Cajon, Pomona, El Monte Downey,West Covina, Orange County, Fullerton, Riverside, Moreno Valley, Corona, Murrieta, Temecula, Hemet, San Bernardino, Chino Hills