Harassment in The Workplace is Unlawful
Absent of employment contract, the employment relationship is employment at will, where any party can terminate the relationship for any reason. However, your employer cannot terminate, discriminate, or retaliate against you because of your disability, sexual orientation, gender, race, religion, age or national origin. When an employee makes inappropriate verbal remarks or physical conduct, this is classed as harassment and can create a hostile work environment. Everybody has the right to a fair and peaceful working environment. If you have been terminated, harassed, or discriminated against in the workplace, our harassment and discrimination attorney will work with you to ensure that your rights are protected while you navigate your employment issue and receive the resolution you deserve.
Certain types of harassment in the workplace are considered unlawful according to Title VII of the Civil Rights Act of 1964 and the Equal Employment Opportunity Act of 1972. When an employee makes inappropriate verbal remarks or physical conduct, it is considered to be harassment when:
The behavior is severe enough that it creates a hostile work environment
The harassing behavior of a supervisor causes a change in the employee's employment status or benefits. Examples of this are demotion, termination, looked over for a promotion etc.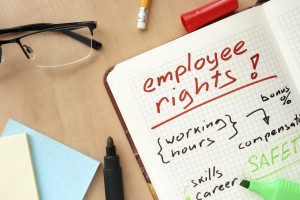 Harassment in the workplace is unlawful and unacceptable. No one should have to suffer this type of treatment when they are working. If you have been harassed at work, you are entitled to certain protective rights. Contact the work harassment attorneys at Rawa Law Group for help with your case. We can inform you of your rights and options and help to ensure that you are protected. Work harassment based on certain personal characteristics is unlawful.
Race
Color
Retaliation
Sex (includes same-gender harassment or gender identity harassment)
HOSTILE WORK ENVIRONMENT HARASSMENT
When unsolicited and unwelcome verbal comments or behavior based on the above mentioned personal characteristics keeps an employee from performing his job reasonably and efficiently or makes the work environment hostile, intimidating and offensive for the employee. Any person that an employee has contact with at the workplace may be guilty of harassment. Managers, co-workers, and non-employees who have contact with workers such as a contractor, vendor or guests can create a hostile work environment. Victims of harassment can be anyone who is affected by the harassing behavior including other co-workers and not limited to just the employee who is directly affected. Our experienced and skilled work harassment lawyers will help to ensure that any harassment you are experiencing at work stops.
Wrongful Termination Lawyers Los Angeles
Some examples by employee actions that might constitute as harassment and create a hostile work environment include:
Using words that are derogatory in a racial way
Using gestures or behaviors that are offensive in a racial way
Making comments about a person's skin and other racial/ethnic characteristics about his or her appearance that makes the person feel uncomfortable
Commenting negatively about an employee's religion
Saying offensive things about an employee's mental, physical state, employee's age over 40 or birthplace and ancestry.
When one employee stares at another employee in a sexually suggestive manner that makes the other employee feel uncomfortable
Talking offensively to the employee about his or her looks, clothing, body parts
Any kind of touching that makes the employee feel uncomfortable
Making jokes or gestures that are sexual or lewd in nature
Emailing or sending messages, notes or images that are sexually explicit or suggestive
Harassment Attorney in Riverside, San Bernardino, Orange County, Los Angeles.
Call us FREE at 844-444-1400 for a FREE Consultation
Other Cities That We Service: Fontana, Rancho Cucamonga, Ontario, Victorville, Hesperia, Chino,Los Angeles, Long Beach, Glendale, Pasadena, Inglewood, Santa Ana, Anaheim, Newport Beach, Irvine, City of Orange,Huntington Beach, Garden Grove, Oceanside, Costa Mesa, San Diego, Chula Vista, El Cajon, Pomona, El Monte Downey,West Covina, Orange County, Fullerton, Riverside, Moreno Valley, Corona, Murrieta, Temecula, Hemet, San Bernardino, Chino Hills