The Leading Train Accident Lawyer in San Bernardino, CA
Public transportation is typically thought of as one of the safest methods of travel, but it certainly isn't risk-free. Many train collisions and derailments have made headlines in California in recent years, with large numbers of passengers wounded or dead as a r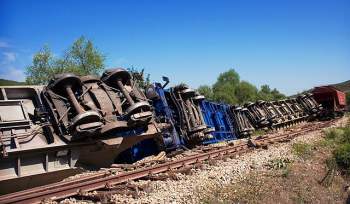 esult. According to the Federal Railroad Administration, there are nearly 12,000 train incidents and accidents each year, more than 50 of which involve passenger trains. If you or a loved one has been hurt in a train accident, contact the attorneys at Rawa Law Group to discuss your legal rights and options.
San Bernardino Train Accidents Train and Metrolink accidents in San Bernardino may involve train collisions, derailments, accidents involving pedestrians, and accidents involving cars or other vehicles. Victims may also sustain injuries due to sudden stops or while on a train platform or crossing. The most deadly train accident in Metrolink history occurred when a Metrolink train collided with a Union Pacific freight train, killing 25 people and hurting another 135. This accident was ultimately blamed on the Metrolink train engineer who was distracted using his phone. Railroad crossings are especially dangerous. California has more fatal train crossing accidents than any other state and these accidents may be caused by driver error or a deceptive or inherently unsafe crossing.
Liability in a Railroad or Train Accident A train collision or derailment must be investigated fully to determine who is at fault for injuries. Many factors may contribute to an accident, including engineers who are distracted, poor track maintenance, driver error, mechanical failure, and unsafe train crossings. California law places a statute of limitations on injury cases and, when the lawsuit will be filed against a transit operator, specific notice must be given. Federal law also caps liability in passenger rail accidents to $200 million, regardless of the number of victims. Reconstruction analysts and investigators will need to determine who is at fault for the accident. Several parties may ultimately be to blame:
Entity that owns the tracks if the tracks were not properly maintained.
Vehicle driver if the accident involved a collision with a vehicle on the tracks.
Train manufacturer if a defective component contributed to the accident.
Train owner or operator if the trains were not kept in good condition or negligent training, hiring, or supervision led to an accident.
Contact a Train Accident Attorney in San Bernardino If you or someone you love has been injured or killed in a train accident in California, you may have the right to compensation. A train accident attorney can help you decide if you qualify for damages for medical costs, property damage, lost wages, impaired earning capacity, pain and suffering, and/or wrongful death. Contact an experienced San Bernardino train accident lawyer at Rawa Law Group today for a free consultation to discuss your case.
Other Cities That We Service: Fontana, Rancho Cucamonga, Ontario, Victorville, Hesperia, Chino, Chino Hills