Exceptional Commercial Truck Accident Attorneys in Orange County CA
Commercial trucks, sometimes called big rigs or semi trucks, are a common sight on roadways in Orange County. While commercial trucks play a very important role in our economy by delivering goods and food across the country, they also account for a disproportionate amount of fatal traffic accidents. According to the Department of Transportation, big rigs are involved in over 12% of traffic fatalities despite accounting for just over 4% of vehicles on the road.
Commercial truck accidents have a high risk of resulting in serious injury or death. After all, the average commercial vehicle weighs more than 80,000 pounds compared to 4,000 for a passenger vehicle. 97% of all deaths in commercial truck traffic accidents are occupants in passenger vehicles.
California now has the second-highest traffic fatality rate in the United States and there are more than 200 commercial truck accident fatalities every year in Orange County alone.
If you or your loved one has been involved in a commercial truck accident in Orange County, an experienced injury attorney can help you protect your rights and seek the compensation you deserve.
Commercial Truck Accidents in Orange County
As with car accidents, commercial truck accidents are usually caused by driver error or negligence. Big rigs require a special license and training because they take much longer to stop than a passenger vehicle and they have large blind spots. It can be easy to lose control of a semi truck for any number of reasons, including speeding, a blown tire, or an improper turn.
Common causes of semi truck accidents include: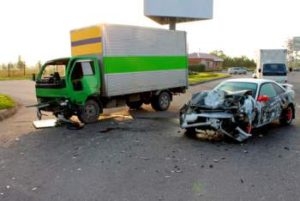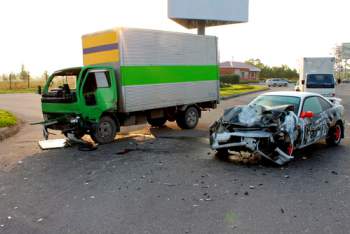 Fatigued driving
Parking on the shoulder
Reckless driving or speeding
Improper turning or lane changing
Driving while impaired
Overloading or improper loading of cargo which can cause a commercial truck to jackknife or roll over
Liability in Orange County Truck Accidents
When a crash with a commercial truck ends in property damage, injuries, or even death, the resulting insurance claim is typically more complicated with more people, companies, insurance adjusters, and government agencies involved. While driver negligence is often a main reason, the trucking company or truck manufacturer may also be liable. In more than three-quarters of truck accidents that involve rear-end collisions, the accident was the fault of the truck and car driver. Passenger vehicle drivers are usually responsible for most head-on collisions. Vehicle-related problems like faulty brakes are a factor in a small number of accidents.
Contact an Orange County Commercial Truck Injury Lawyer
If you have been involved in a commercial truck accident in Orange County, it's important to seek legal counsel as soon as possible so as to find out responsible party at the earliest. An experienced commercial truck injury lawyer at Rawa Law Group will investigate the accident to determine who was to blame and what factors contributed to the accident.
Each party responsible likely has insurance to protect them but it is not uncommon for these parties to fight over liability. At Rawa Law Group, we will work to seek the maximum compensation possible for your medical expenses, lost wages, and other damages.
Contact Rawa Law Group today for a free consultation with an Orange County truck accident attorney to discuss your case and explore your legal options.
Other Cities That We Service: Santa Ana, Anaheim, Irvine, Huntington Beach, Garden Grove, Oceanside
Orange, Fullerton, Costa Mesa, Mission Viejo, Westminster, Newport Beach