Best Car Accident Lawyer in the Orange County Area
Traffic accidents are the leading cause of accidental death in California. Every year, over 39,000 people are critically hurt in car accidents with about 1.7 million injured in traffic accidents throughout the U.S. Traffic fatalities have increased 13% in California in recent years after a significant 36% drop between 2006 and 2010. Over 3,000 people are killed in traffic fatalities in California each year. While some auto accidents are unavoidable — such as those caused by defective brakes or poor road conditions — the majority of accidents can be prevented. Most auto accidents are caused by driver error, including drivers using smartphones or speeding. If you or someone you love has been seriously hurt in an accident, an auto accident attorney in Orange County can help you understand your legal options and seek compensation from the responsible party.
Common Causes of Orange County Car Accidents
Accidents may be caused by:
Distracted driving
Speeding
Driver impairment due to alcohol or drug use
Recklessness
Vehicle malfunction
Failure to obey road rules
Poor road conditions or weather
Even if you do not think you are hurt, it's important to see a doctor as soon as possible. In many cases, injuries like traumatic brain injury (TBI), internal damage, chest injuries, neck injuries, and hearing or vision problems do not show up for hours or days.
Liability for a Car Accident in Orange County
A negligent or reckless driver is held liable under California law for any damages they cause in an accident. This gives you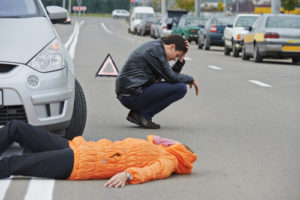 the right to seek compensation for your medical expenses, pain and suffering, lost income, reduced earning capacity, and more.  All drivers in Orange County must carry liability insurance, although the limits are often too low to cover all damages in an accident that leads to injury. Compensation is always paid solely from the policy of the party at fault for the accident, but you may also seek the responsible party's personal assets if the insurance is not enough. If you have underinsured or uninsured motorist coverage, your own car insurance policy can help as well.
Contact an Attorney Before Talking to an Insurance Adjuster
While you will need to work with an insurance company after an accident, it's important to seek legal advice from an accident lawyer in Orange County before discussing your accident with the insurance company. Remember that insurance adjusters work for the insurance company to minimize payouts. Adjusters may use many tactics to reduce insurance payouts and use what you say against you. Accepting a settlement can bar you from seeking additional compensation, even if your settlement does not cover your losses. A car accident attorney will work on your behalf to gather evidence of the accident and negotiate with the insurance company for a fair settlement for your injuries and damages.
Contact a Orange County Auto Accident Lawyer Today
If you or someone you love has been involved in a car accident in Orange County, it is very important to contact a legal counsel as soon as possible to build a strong case. You may be entitled to compensation for your injuries. Contact an experienced Orange County car accident injury lawyer at Rawa Law Group today for a free consultation to discuss your case.
Other Cities That We Service: Santa Ana, Anaheim, Irvine, Huntington Beach, Garden Grove, Oceanside
Orange, Fullerton, Costa Mesa, Mission Viejo, Westminster, Newport Beach