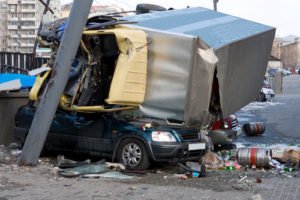 When you are involved in a serious trucking accident, you may wonder how much you are able to "collect" in damages. The truth is, many people involved in these accidents are left with severe injuries and may wonder how they will pay their bills when their insurance won't cover it. Because of this, damages become available. Courts will examine a variety of factors to come up with the perfect compensable number to fit your case. Some of these factors include the medical bills you incur, lost wages from time missed at work, and so much more.
Various Trucking Accident Damages
Medical Bills: These are some of the most important bills relating to trucking accidents. Because trucks are so large compared to motor vehicles, the injuries that stem from these accidents are usually very severe and a patient may find that they have incurred medical bills that they cannot handle themselves – so they may turn to the courts. The court will take into account the many bills and expenses relating to medical services from doctors, hospitals, emergency rooms, ambulance fees, and so much more. However, it is a plaintiff's duty to also show evidence of their injuries stemming from the accident if they want to be compensated.
Property Damage: Your car may have sustained a lot of damage in a trucking accident, which is why the court will take this into consideration. However, you will probably have to show photographs, reports, and other types of evidence detailing how much you should be paid based on the extent of the damage to your vehicle.
Lost Wages: These are damages that account for the money that you would have earned from the time of the injury to the time of the settlement. They may also take the loss of earning capacity into consideration, which means that you could be compensated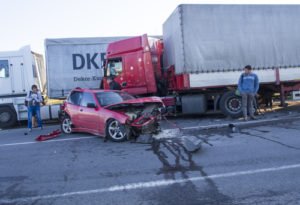 for what you will lose in the future if your injuries keep you from working.
Pain and Suffering: Were there physical pain in connection with the accident or injury? A court will award damages for past, present, and future physical pain. The court will consider a variety of factors when making this highly difficult identification.
Emotional Distress: In some cases, trucking accidents cause extreme emotional distress. The court will look at the intensity of the accident, how long it lasted, what bodily harm was sustained, and the cause to make this determination.
Punitive Damages: Punitive damages are meant to punish a truck driver who acted maliciously in the case of an accident. If this has happened to you, you can seek punitive damages.
Comparative and Contributory Negligence Laws: Were you at fault in your accident, or partially at fault? The degree of your own fault can impact how much your damages are worth. (1)
A couple thousand drivers will be killed every year in truck accidents. There are many laws governing truck drivers on a federal and state level, which is why these accidents typically do not happen – however, this does not mean that every accident will be prevented. (2) Call us today for help on your case if you have been injured in a serious trucking accident.
(1) https://blogs.findlaw.com/injured/2014/03/truck-accident-damages-how-much-can-you-collect.html
(2) https://www.nolo.com/legal-encyclopedia/trucking-accidents-common-causes-liability-30156.html