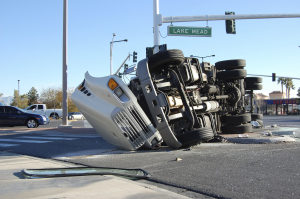 Why are truck accidents more likely to cause injuries than accidents involving passenger vehicles? This is a question that many people wonder each year as they sustain extremely serious injuries from these catastrophic accidents. The truth is, a fully-loaded commercial truck can weigh up to 80,000 pounds or more compared to the low 3,000 of a passenger vehicle. Many of these accidents even end in fatalities, which is why prevention is always key when considering the power of a commercial truck on the roadways. (1)
After a truck accident, you may have many emotions swimming through your head. The truth is, there are many options out there for you. However, you must first take proper steps after the accident occurs to protect your rights down the line, especially if you are interested in filing a lawsuit. This means that you will want to call the police and obtain a police report, take photographs of the accident scene, take good documentation of observations, and get all contact information as well as statements from witnesses. All of these steps may be crucial to your case because they serve as evidence. After all, is said and done, you may even want to return to the accident scene so you can take a better look at what happened. Were there specific road conditions that may have had a part in the accident? These are questions you will want to answer.
Proving Your Case
Negligence will come into play if you believe that a truck driver caused your injuries and should be held liable to compensate you. If you have been injured, you must be able to prove that the truck driver owed you a standard duty of care and should have exercised this care to prevent you from gaining injuries. You must show that they breached this duty of care and that it was the direct cause of your injuries.
One of the most important things to remember in a trucking accident case is that there is a wide variety of defendants that you may have to identify in your case. In some cases, there may be even more than one defendant in your case. The first thought any person would probably have after a truck accident is, "It had to be the driver!" but this is not always the case. Perhaps a truck driver's employment relationship is with their company and the company is at-fault for the accident because they failed to maintain the truck. In this case, you may find that the company is legally liable for your injuries. It all depends on the degree of control that a defendant had the truck that caused your injuries. (2)
Once you prove your case through a lawsuit, you will receive compensation in the form of "damages." It is important that you receive the physical, emotional, and financial losses necessary after you have been injured severely. This is why it is important to give us a call today at RAWA Law Group to handle your case from the very beginning – call now!
(1) https://injury.findlaw.com/car-accidents/commercial-truck-accidents-faq.html
(2) https://injury.findlaw.com/car-accidents/commercial-truck-accidents-overview.html