Ontario Harassment and discrimination attorney
Get the help of a proficient Ontario harassment and discrimination attorney
Ontario Harassment and discrimination attorney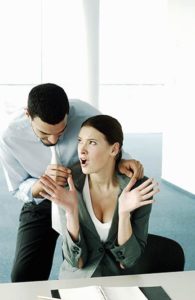 Employees hold performance reviews in high regards due to the importance of their roles in their careers. A poor performance evaluation could very well lead an employee being unemployable in any firm as persons often consider these reviews before making key employment decisions. Seeing the importance of these, employers and reviewers are expected to be fair and just when assessing the productivity of their employees, they are expected to do so without bias, but as you should know, this is not always the case. A few employers unlawfully down grade their staff members due to the bias they have for their race, gender, age, sexual orientation or more. If you have been served a poor performance review and you are confident you have been satisfactorily devoted to your place of employment, then you would need the expert counsel of seasoned harassment & discrimination attorney in Ontario. Your attorney would help you make sense of the all the laws that are relevant for the actions you will need to take, he/she will also help you manage all submissions and filing that are necessary for the establishment of your case alongside your representation in court.
Reach out to us at Rawa Law Group today, and have the spectacular legal service you need to come through your ordeal successfully. Rawa Law Group is a foremost law firm in California; we have some of the most revered attorneys in the nation who are highly experienced and seasoned in the cases of harassment and discrimination. With us you are sure to not only get practical guidance but also to have the victory you need in court.
Kindly note that you will not be required to make any upfront payments before we handle your case, we are committed to carrying on your case with utmost fervor, and only getting paid when we have won you some money. We are here in your best interest, see our address below.
Rawa Law Group
5843 Pine Ave
Chino Hills, CA 91709