Oceanside Harassment and discrimination attorney
Seek the help of an experienced Oceanside Harassment and discrimination attorney
Oceanside Harassment and discrimination attorney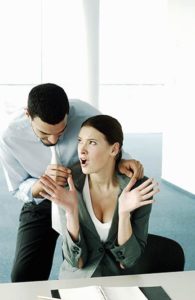 Every wise employer knows that the conduciveness of the work environment is non-negotiable, as it is important for the achievement of corporate goals. Sometimes, these same employers upset the balance and harmony of the work environment by being harassive to some of their employees due to the bias they have about their sexual orientation, gender, age, race and even nationality. Their harassive actions start out as jeers, jibes and slightly offensive remarks to full blown discrimination which may be manifested in pay cuts, benefits denial and loads of other ways. It is incredibly important that the employee carries out the important actions right from the start of the harassments, and to do this, such employee would require a competent attorney.
Getting an attorney would mean that you get the legal guidance and protection you need to thrive in your work space, it also means that in a case where matters lead to the court, your interest will be well spoken for and represented.
Rawa Law Group has some of the finest harassment & discrimination attorneys in Oceanside. Our legal practitioners are nationally revered and complemented with a stellar record of legal excellence. Our firm which has been a front liner in the industry for over two decades, has played key roles in the deliverance of compensation worth over hundreds of millions to grateful claimants in California, and we would be honored to do same for you.
Contact us today at the address below and have your case reviewed at no cost at all. We're here to help!
Rawa Law Group
5843 Pine Ave
Chino Hills, CA 91709