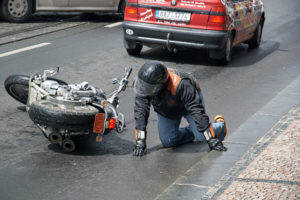 Somebody involved in a motorcycle accident is more likely to suffer a lower-extremity injury than one of the upper-extremity. Injuries to the upper body such as the head and chest tend to be more serious and even fatal, though those happening to the lower body can still carry certain seriousness with them and involve complications like infections and amputations. Here are some of the most common accidents you may suffer from:
Pelvic fractures, that can result in stable of unstable pelvic injuries and cause bleeding or surgery
Hip injuries that include fractures and dislocations
Knee injuries such as the ACL, MCL, PCL, and meniscus as well as fractures of the knee cap or knee joint
Leg injuries including fractures of the tibia, fibula, and femur that can result in severe blood loss and infections of the bone
Foot, ankle, and toe injuries such as breaks
How Will I be Compensated in an Accident? 
If you have been involved in a motorcycle accident, you may wonder what damages are available to you. Because lower extremity injuries can be so serious, you may be entitled to compensatory damages to repay you for medical expenses, repairs, and lost wages, general damages for pain and suffering, and punitive damages to punish a defendant after they have acted negligently. You may have to meet certain deadlines for filing a claim so speak to us today about your options!