Los Angeles Truck Accident Attorney
Get an Aggressive Los Angeles Truck Accident Attorney
Los Angeles Truck Accident Attorney
Truck accidents are tops amongst some of the most undesirable things in the world. They are disastrous, only causing pains and loss. Sometimes, someone dies. The incident of a truck accident shouldn't be taken with a pinch of salt and it is advisable that a renowned truck accident attorney is involved in the case immediately in order to make accident claims and full compensation successful.
In Los Angeles, CA, a renowned truck accident attorney is easily found at Rawa Law Group.
Rawa Law Group is a superior law firm that provides stellar legal services to citizens of California and has been that way for a long time. We have gathered more than 55 years of experience in this field with our team of lawyers. At our firm, we parade some of the most reliable accident attorneys in the region and our trusted attorneys are highly attentive when attending to our clients.
At Rawa Law Group, we ensure that while we work on your case, we keep you in the know about everything. Even if you require one-on-one attention from any of our attorneys, we are at your service.
Our appointment hours are very flexible and are often built to fit into your schedule. On your request, we allow our attorneys make a home or hospital visitations and consultations.
When you hire our services, you have the right to expert legal representation. You would be given free consultation and our policy of no upfront payment costs covers you should you work with us. We also give sound legal counsel at no discreet fees.
To hire a renowned truck accident attorney in Los Angeles, CA, reach Rawa Law Group via the address below.
The Foremost Truck Accident Lawyer in Los Angeles
Trucks are a common sight on highways in the Greater Los Angeles area. Commercial vehicles are an important part of the economy, delivering goods and food to nearly every community in California, and the volume of goods transported by truck is expec
ted to increase over the next two years, according to the Department of Transportation. Despite their importance, these large vehicles pose a risk to other drivers. When truck accidents occur, the results are often devastating. About 97% of truck accident fatalitiesinvolve occupants of passenger vehicles. Injuries are often catastrophic and victims may be left dealing with surgeries, physical therapy, and pain for years. If you or someone you love has been seriously hurt in a truck accident in Los Angeles, the attorneys at Rawa Law Group are here to help you protect your rights and seek the compensation you deserve. Common Types of Truck Accidents in Los AngelesAll heavy trucks pose a risk to drivers, including garbage trucks, semi trucks, tanker trucks, tow trucks, and flatbed trucks. Truck accidents may occur in many ways. Some of the most common types of truck accidents in California include:
Under-ride accidents happen when a large truck stops suddenly or a smaller vehicle driver is distracted and slams into the back of a large truck. These accidents are among the most fatal because the passenger vehicle slides under the truck's carriage.
Blind spot accidents happen when a vehicle is in a truck's blind spot. A driver cannot see other vehicles in their blind spot while changing lanes and may cause a collision.
Wide turn accidents or swinging turn accidents happen when the truck driver swings left first to make a right-hand turn. The truck may collide with vehicles on the right-hand side.
A tire blowout can happen with any vehicle, but it can cause a semi truck driver to lose control and cause an accident.
Jackknife accidents occur when a truck driver breaks too suddenly, causing the trailer to swing out of sync with the truck.
If cargo is not secured and loaded correctly, it may fall from the truck and cause an accident.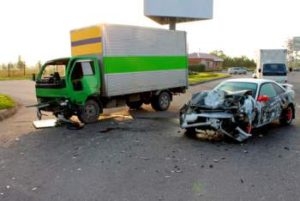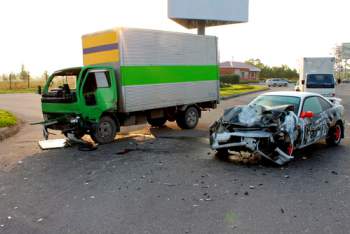 Commercial truck accidents can be caused by any number of factors, but negligent truck crashes are usually caused by insufficient driver training, improper turning, speeding, tailgating, driver fatigue, distracted driving, alcohol, improper vehicle maintenance, or failing to obey traffic rules. Contact a Los Angeles Truck Accident Attorney If you or a loved one has been seriously hurt in a truck accident in Los Angeles, a personal injury attorney can help you navigate the insurance claim process and represent you to seek fair compensation for your injuries. Do not speak with an insurance company before you talk to an attorney about your case as anything you say can be used against you to reduce or deny your claim. Contact Rawa Law Group for a free consultation with an experienced truck accident injury lawyer in Los Angeles to discuss your case.
Los Angeles Truck Accident Attorney
Rawa Law Group
5843 Pine Ave
Chino Hills, CA 91709