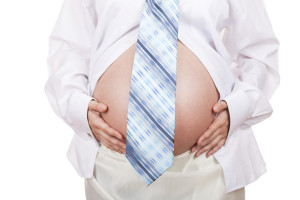 Let's assume that you have been in a job for a very long time and are over-qualified for a new, higher paying position. Your employer himself is even encouraging you to work toward the promotion in hopes that you would be able to handle the job. However, then you find out that you are pregnant and will be having a baby in seven more months.
When you tell your employer, he hires somebody else for the better job immediately and it isn't you. He then proceeds to treat you differently, even ignoring requests you make. Do you believe there is genuine concern that you were discriminated against for your pregnancy?
If you believe you weren't hired, didn't get a promotion, were denied benefits in a job, or were fired because of pregnancy – then you may have a discrimination claim.
The federal Equal Employment Opportunity Commission (EEOC) receives thousands of charges each year alleging pregnancy discrimination. Pregnancy discrimination is a form of illegal sex discrimination that occurs when an employer treats an applicant or employee differently because of her pregnancy, the childbirth process, or related conditions.
At any point during the employment relationship, pregnancy discrimination may occur, although it is incredibly illegal. Pregnant people may not necessarily have special rights; however, it makes it more difficult for employers to treat pregnant employees differently from other employees (Nolo).
The Pregnancy Discrimination Act (PDA) actually forbids discrimination based on pregnancy when it comes to any aspect of employment involving job assignments and even things that include health insurance and any other employment condition.
When Does Harassment Apply?
It is always unlawful to harass an employee for any reasons. However, it is especially unlawful for an employer to harass a woman because of pregnancy, childbirth, or a medical condition related to pregnancy or childbirth. Harassment can create a hostile or offensive work environment.
This makes harassment incredibly illegal, and more so when it results in an adverse employment decision such as a firing or demotion. If this can be proven, the employer will be held liable for the way you suffered (USA.gov).
How Do I Prove Pregnancy Discrimination?
Direct Evidence of Discrimination: If you have evidence, that means that the employer typically admitted to acting with discriminatory intent. If an employer's decision has relied greatly on your pregnancy, then that is discrimination in action. In most cases, it is more likely to hear an employer outright tell somebody that pregnancy was a factor in a decision that it is for an employer to admit that they were racist.
Circumstantial Evidence of Discrimination: Even if discrimination is not admitted, you may still have evidence to prove it. Circumstantial evidence will typically consist of proof that the employer deviated from its usual practices or policies, acted in a way that doesn't necessarily make sense, or changed behavior.
Timing is unbelievably crucial in pregnancy discrimination cases. If you were treated differently starting with when the employer discovered your pregnancy, this could be a basis for the discrimination (Nolo).
So, where do you turn next if you believe that discrimination was at play? You should first speak with an experienced attorney. At Rawa Law Group our legal team take the necessary steps to end the discrimination and help you keep your job if you are still employed, we know the law and your rights.
Your attorney will help you file a lawsuit and get through the process. This is why you should call the RAWA Law Group to 844-444-1400 and talk about your options, you can also fill out our online contact form to schedule a consultation.
Works Cited:
Nolo. Nolo, 2015. Web. Accessed Nov 11, 2015.
https://www.nolo.com/legal-encyclopedia/pregnancy-discrimination-lawsuits-what-you-have-prove.html
USA.gov. U.S. Equal Employment Opportunity Commission, 2015. Web. Accessed Nov 11, 2015. Accessed today.
https://www.eeoc.gov/laws/types/pregnancy.cfm