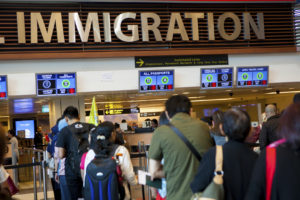 Recently, the Secretary of Homeland Security (Jeh Johnson) extended Temporary Protected Status for eligible nationals of El Salvador. This is now continued for 18 months, which becomes effective for September 10, 2016, through March 9, 2018. If you are currently an El Salvador beneficiary who wants to extend your TPS, you must re-register for it through a 60-day re-registration period running from July 8, 2016 through September 6, 2016. The U.S. Citizenship and Immigration Services (USCIS) is urging beneficiaries to re-register as soon as this period opens.
Because of the 18-month extension, TPS re-registrants will now be able to apply for a new Employment Authorization Document (EAD). If they get one as soon as possible, it will have an expiration date of March 9, 2018. Here is what a re-registrant needs for the process:
• Form I-821, or the Application for Temporary Protected
• Form I-765, or the Application for Employment Authorization
• Form I-765 application fee (only if you want an EAD)
• Biometric services fee if you are 14 years or older
If you fail to submit the required filing fee or a properly documented fee-waiver request, then the USCIS has the right to reject your application. If you are unable to afford the fees, you can request the USCIS to waive your fees based on your inability to pay. These requests must be accompanied by supported and necessary documents. However, the forms are available for free online.
The Employment Authorization Document
The Employment Authorization Document is one of the most important documents in this process. TPS re-registrants in this case will have to file for one as soon as they can. The point of the document is because U.S. employers must always check to make sure that all employees, regardless of citizenship or national origin, are permitted to work in the U.S. There are many requirements that you may meet to be eligible for employment authorization, such as having authorization to work no matter your nonimmigrant status or being in a category that requires you to file for permission to work. The USCIS will issue EADs as proof of ability to work in the U.S., to renew an EAD that has expired, or to replace an EAD.
Where to Send TPS
If you are applying for re-registration and you live in any of these territories, we will show you where to send your package: Alabama, Alaska, American Samoa, Arkansas, Colorado, Guam, Hawaii, Idaho, Iowa, Kansas, Louisiana; Minnesota, Mississippi, Missouri, Montana, Nebraska, New Mexico, New York, North Dakota, Northern Mariana Islands, Oklahoma, Puerto Rico, South Dakota, Tennessee, Texas, Utah, Virgin Islands, Wisconsin, or Wyoming. You will have to send your application to the Citizenship and Immigration Services in Dallas TX. You should have an immigration attorney on your side throughout the process. Call us today for more information on how to handle your case. At The RAWA Law Group, we can help you with your immigration case and help you get the results you were looking for.