When the season starts to turn and the weather gets cold, it's time to consider your vehicle on the fall and winter roadways. Thanksgiving is in tow and then we're headed straight to Christmas, where the roads will turn to ice and snow will land on our vehicles. This is why it is important to be prepared for anything during the holidays, such as the low visibility, snowy conditions, and many distractions that take the lives of many people on the roadways every year during these months. Now you can stay prepared by understanding some of the most dangerous holiday driving hazards and tips you can take with you while driving.
Dangerous Roadway Hazards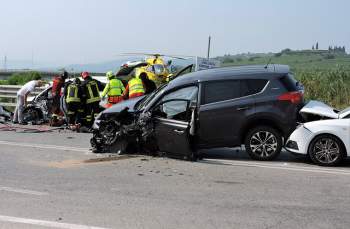 During the holidays, you may be traveling on the roads to celebrate at get-togethers with your family. However, there are some hazards that you must watch out for pertaining to yourself and other drivers who share the roads with you.
Distracted Driving: Something as simple as sending a text to your cousin telling them you are on your way for a holiday dinner is enough to cause an accident this season. Put the cell phones away and keep your eyes on the road in the cold weather conditions.
Impaired Driving: With many year-end parties happening, you and your family members may be consuming alcohol at some point. Law enforcement has determined that there is an increase in impaired accidents around this time.
Pressured Driving: The holidays will sometimes put a strain on people on an emotional and financial level. This is why many drivers will react to these changes negatively by driving too fast for the road conditions, making aggressive lane changes, and failing to yield the right-of-way.
Fatigue: Because many activities are happening during this season, people may be sleeping less and increasing their chance of fatigue on the roadways. Get as much sleep as you can before heading out! (1)
Long Distance Tips
As you may already know, many people who are going to holiday parties during this time of year are driving long distances. Perhaps you are in a situation similar to this yourself. This is why it is a good idea to keep some tips in mind to reduce the likelihood of an accident.
Breaks: When you are driving for 11 hours at a time, you will naturally need a break. Not only should you get enough sleep, but you should always plan for small breaks at a rest stop or elsewhere. This helps you avoid fatigue and stretch. You could very easily experience aches from spending 500 miles on the road without a break.
Focus: If you are driving extensive highways with nothing to say, you may get bored and distracted. Stay focused and do not let your mind wander.
Sharing the Roads: When you are driving long miles, you may encounter many different types of vehicles like tractors or commercial vehicles, which are much larger than your passenger vehicle. Remember blind spots and more.
Planning: Be prepared for the unexpected, because it is impossible to tell the future. You may want to prepare a safety kit for first aid, flashlights, blankets, food, and more. (2)
By understanding the ways of the road and preparing for your long trip, you can avoid the likelihood of an accident. Many people find themselves in an accident or stranded on the roadways during the holidays, so it is important to keep these tips in mind and stay safe. Call us today if you have been involved in an accident and need our help.
(1) https://ehstoday.com/safety/four-most-dangerous-holiday-driving-hazards
(2) https://www.farmers.com/inner-circle/car-safety/pro-tips-for-driving-long-distances/