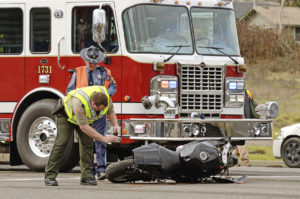 Motorcycle accidents are not more frequent than other types of accidents, but they are just as serious and should never be excluded from the ranking. The truth is, motorcyclists should always be aware of the ways that they can protect themselves from a terrible accident on the roadways. This includes understanding the most common ways that motorcycle accidents happen and how they can be prevented.
Head-on Collisions: 56% of motorcycle accidents involve a motorcyclist and another vehicle. In 78% of these cases, the car will strike the motorcycle from the front. This can be devastating and, often times, can be fatal to the motorcyclist.
Left-Hand Turn Accidents: When cars make left-hand turns, motorcyclists are put in one of the most dangerous situations. The car will typically strike the motorcycle when they are going straight through an intersection, passing the car, or trying to overtake the car. Being that motorcycles are small in size, they are less visible to a turning vehicle and, as such, are more likely to be involved in an accident than two cars. In most of these cases, the vehicle driver is found to be at-fault unless the motorcyclist was speeding.
Lane Splitting: If a motorcycle drives between two lanes of stopped traffic, lane splitting occurs. There is usually a close proximity of cars to the motorcycle and cars will not anticipate that a motorcycle will be passing them. Either the motorcyclist or the driver of the vehicle could be found at fault for these accidents.
Speeding and Alcohol Use: Almost half of the accidents that involve a single motorcycle are due to speeding or alcohol use. Motorcycles do not offer much in ways of protection to a rider, which is why the results can be deadly.
Road Hazards: Hazards on the roadways cause many of the accidents that happen for motorcyclists. Motorcycles are very small, which also makes them unstable in many ways. They could run over potholes, dead animals, slick pavement, and much more. These can all pose serious threats to a motorcyclist.
Safety Tips for Motorcyclists
Do you want to know how to keep yourself safe? When you receive your motorcycle license, you are agreeing to the rules of the road and understanding for your particular vehicle. However, everybody can use a refresher. Here are some safety tips that you should always remember if you own a motorcycle:
You should always have appropriate motorcycle attire. This includes a helmet, bike jacket, gloves, and more. You can prevent a more serious accident and injuries if you have the right equipment for the job.
You should never speed, race on the highways, or ride after you have consumed alcohol.
When you are making turns with your motorcycle, always be sure that you are keeping a proper eye out for hazards.
Always use your own safe driving skills. Be careful of any road conditions that could cause you to lose control or lose sight of what matters on the road.
Use horns in case of alarming or bad road conditions.
Do you have a motorcycle accident case and believe that somebody else was at fault for your injury? Do you want to speak to an attorney who has experience in motorcycle accidents? Give us a call today and we will help you with your case.