San Diego's  Expert Attorneys in Bus Accidents
Bus travel is usually safer than traveling by car, but certainly not risk-free. When bus accidents do occur, they often lead to serious injuries as occupants usually do not have seat belts or airbags. Over 1,100 people in California are injured in bus accidents every year and accidents involving school buses, charter buses, and San Diego MTS buses are common. Bus line operators and drivers have a duty to protect occupants and provide safe transportation. If you or someone you love has been hurt in a bus accident in San Diego, a personal injury attorney can help you protect your rights and seek compensation for your injuries.
San Diego Bus Accidents
Buses are prone to flipping over in collisions and passengers usually do not have safety features like airbags and seatbelts to protect them. While bus accidents usually involve a collision between a bus and a passenger vehicle or pedestrian, bus passengers can also be hurt when the bus makes a very sudden stop or loses control due to a tire blowout. Bus accidents can lead to serious injuries such as traumatic brain injuries, lacerations, fractures, nerve damage, whiplash, and spinal injuries.
Bus accidents occur for many reasons, but, like car accidents, the cause is usually driver error or negligence. A bus driver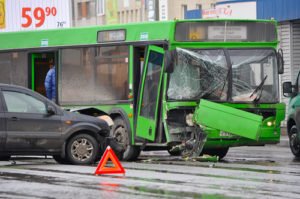 may be responsible for an accident if he or she was speeding, failing to obey traffic laws, or distracted. Drivers who cause an accident through negligence or recklessness are held responsible for damages in an accident as California has very strict standards for bus drivers to show diligence and care. Not all bus accidents are caused by drivers. Sometimes buses are poorly maintained, or an accident may be caused by defective tires, brakes, or other parts. Improper maintenance is a factor in many accidents involving charter and school buses especially in San Diego. A bus manufacturer or bus company may be responsible for damages if the accident was caused, at least in part, by poor maintenance, defects, or insufficient training or hiring standards. Bus accident injury claims can be even more complicated if the bus is operated by a government entity, which is the case with school buses and MTS buses. In this case, you will be required to file an injury claim within 180 days of the accident. Submitting incomplete paperwork can cause you to miss the deadline to receive compensation for your injuries.
Contact a San Diego Bus Accident Injury Lawyer
If you have been hurt in a bus accident, it's important to seek legal counsel as soon as possible. Do not speak with an insurance company without talking to an attorney as you may limit your right to compensation. A personal injury lawyer can help you protect your rights and explore your legal options to seek compensation for your medical bills, lost wages, and pain and suffering. Contact Rawa Law Group today for a free consultation with an experienced bus accident injury lawyer in San Diego to discuss your case.
Other Cities That We Service: Chula Vista, El Cajon