The Leading Attorney in Truck Accident Cases in San Bernardino
Truck accidents are among the most serious accidents that occur on San Bernardino roads. Unfortunately, passenger vehicle occupants account for more than 95% of fatalities in commercial truck accidents in California due to the size and weight of commercial vehicles. According to DOT statistics, more than 25,000 large truck accidents occurred in 2013 alone that led to fatalities and injury.
If you or someone you love has been seriously hurt in a truck accident, a San Bernardino truck accident injury lawyer can help you explore your legal options and seek compensation from the responsible party.
San Bernardino Truck Accidents
Several factors contribute to truck accidents in San Bernardino. Many accidents are caused by the following:
Driver fatigue. Despite laws regulating how long truck drivers may remain on the road without a break, fatigue is often a factor in truck accidents. In some cases, truck drivers have been found falsifying driving logs to meet deadlines.
Speeding. Trucks need more road space to stop, even while traveling at the speed limit. A truck that is going too fast or going downhill may not have time to stop and rear-end a vehicle.
Improper loading. A truck that is not loaded correctly can lose control, especially while the driver is making a turn, going around a bend, or driving at high speeds. Jackknifing accidents are often caused by an overloaded truck.
Poor truck maintenance. Truck accidents can also be caused by improper maintenance. Given that trucks need more time to stop, a truck with worn brakes is at a greater risk of causing an accident, for example.
Many times, the driver of a large truck is the victim needing assistance and compensation due to poor maintenance or negligence on the part of the truck owner or company, manufacturer malfunction, or passenger vehicles speeding past and cutting off trucks in blind spots on the highway. Rawa Law Group can assist large truck drivers with fair compensation for injury, wages lost, and other forms of reimbursement.
Who is Liable for a Truck Accident in San Bernardino?
Truck accident claims can be complicated because one or several parties may be at fault. A driver may be liable for your injuries if he or she was speeding, fatigued, under the influence, or failing to obey traffic laws. The trucking company may be at fault for negligent maintenance or hiring practices. In some cases, the manufacturer shares blame in the accident due to manufacturing defects.
Contact a San Bernardino Truck Accident Attorney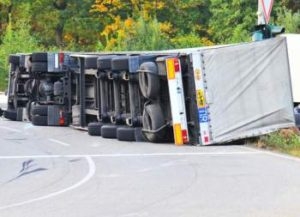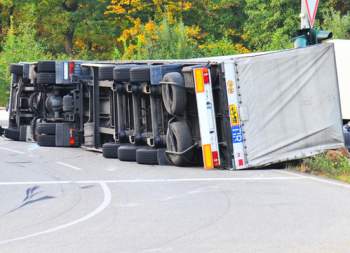 If you have been involved in a truck accident in San Bernardino, it's important to seek legal advice quickly because your rights may be affected by decisions you make following the accident, especially if you are the driver of a large truck. It is very common for insurance companies to offer a low settlement and accepting an offer or making a statement to the insurance company can reduce or forfeit your right to additional compensation. Contact an experienced San Bernardino truck accident injury attorney at Rawa Law Group today for a free consultation to discuss your case.
Other Cities That We Service: Fontana, Rancho Cucamonga, Ontario, Victorville, Hesperia, Chino, Chino Hills