San Bernardino's Expert Attorney in Aviation Accidents
Aviation accidents usually have life-changing consequences and are famously complex to prove as investigations must first be conducted by many federal and local agencies, as well as insurance multiple companies. Studies show that most fatal plane accidents could have been avoided – often caused by negligence of maintenance, pilots, airline managements, or manufacturers—despite strict aviation protocols and standards on design, inspection, and training.
Plane Accident Liability in San Bernardino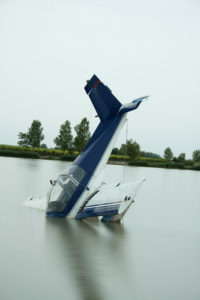 The first step in this type of personal injury case is to establish who was at fault in the accident. This could be the airline executives, the manufacturer of the plane or parts, the pilot or maintenance crew, even the Federal Aviation Administration. Many times independent agencies have established facts and evidence that prior investigations by the government or insurance agency has missed. Having an experienced lawyer on your side is mandatory to ensure accountability in these investigations, as liability is a crucial component of all accident cases, and will determine whether you are entitled to financial compensation for injuries.
An experienced attorney at Rawa Law Group will review the work of accident investigators from government and local agencies and secure all available evidence. Flight recorders, photos of the crash scene, plane maintenance logs, pilot testimony, inspection records, and procedural manuals may all lead to a successful compensation claim.
Many factors can lead to an aviation accident, such as weather, pilot or crew error, navigation problems, mechanical failure, maintenance negligence, low quality fuel, or negligence on the part of air traffic control. Many air accidents involve fatalities, which makes it important to work with a wrongful death attorney in San Bernardino who understands the rules for eligibility. These claims are notoriously complex, as many responsible parties may be found throughout the investigation.
Contact an experienced Aviation Attorney in San Bernardino
Aviation accidents are almost always devastating, complex, and hard to file successfully due to the complicated investigation process and liability from multiple parties, making it important to secure personal legal representation. If you or a loved one has been injured or fatally wounded as the result of an aviation accident, a skilled personal injury attorney in San Bernardino can help protect your rights and secure financial compensation for your loss. Contact Rawa Law Group for a free consultation with an experienced aviation accident attorney.
Other Cities That We Service: Fontana, Rancho Cucamonga, Ontario, Victorville, Hesperia, Chino, Chino Hills