The Leading Attorney in Bus Accident Incidents in San Bernardino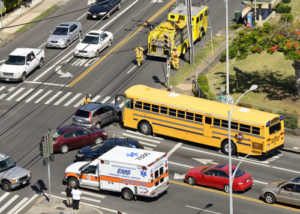 Public transportation can often be a safer alternative to personal vehicle travel, though in the event an incident, bus accidents can often be debilitating or fatal. In 2014, more than 22,000 people were injured in bus crashes nationwide. Tour buses, school buses, charter buses, and public transportation buses all have a duty to provide hazard free transportation to California residents. If you have been injured or lost a loved one in a bus accident, the experienced attorneys at Rawa Law Group can help you receive fair compensation for your injuries or losses.
Bus Accident Liability in San Bernardino
Bus accidents often involve many passengers and limited air bags or seatbelts. Buses are also top heavy and prone to flipping in high winds or blown tires, making them extremely hazardous in the event of an accident. Bus accidents in San Bernardino are usually the result of colliding with other vehicles, though they can also lose control or malfunction independently. These accidents may lead to fractures, whiplash, nerve damage, abrasions and lacerations, and spinal cord and traumatic injuries.
California Bus Accidents
Many factors may contribute to a bus accident, but negligence or driver error is the most common occurrence. Bus drivers may speed, disobey traffic laws, or drive fatigued, distracted, or under the influence of illicit substances. California has very strict laws in place for bus drivers and companies, all required to show the utmost diligence to providing safe transportation to San Bernardino residents.
Many times outside factors may contribute to the crash, such as negligence in maintenance routines, defective parts, or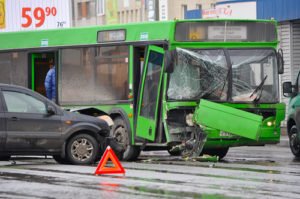 manufacturer malfunctions. Studies show improper maintenance routines repeatedly leads to bus accidents involving school and charter buses in California. In many cases, companies simply do not train bus drivers adequately, which may place liability on the company itself.
When a bus is operated by government agencies, such as school or public transportation buses, victims will find their claim can quickly become complicated and overwhelming. These claims are also required to adhere to a strict statute of limitation of 180 days from the incident. If you do not file your paperwork correctly, it is possible to miss this deadline for fair compensation.
Contact a San Bernardino Bus Accident Injury Attorney Today
If you were the victim of a bus accident or have lost a loved one in a bus accident in San Bernardino, it is important to file your claim expediently. An experienced personal injury attorney such as those at Rawa Law Group can move quickly and accurately on your behalf, ensuring maximum compensation for your claim. Contact us for a free consultation today.
Other Cities That We Service: Fontana, Rancho Cucamonga, Ontario, Victorville, Hesperia, Chino, Chino Hills