The Foremost 18 Wheeler Accident Attorneys  in San Bernardino
18-wheelers, also known as semi-trucks or commercial trucks, are a common sight on roadways throughout the United States. More than 3 million trucks deliver food and goods, haul heavy equipment, and keep the economy running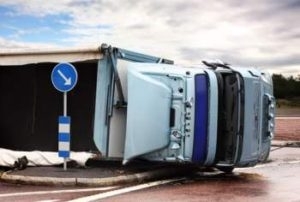 annually. Most semi-trucks weigh anywhere from 10,000 to 80,000 pounds depending on the load. Due to their size and weight, it is much harder for these large trucks to stop on command and semi-truck accidents account for 3,400 fatalities and 60,000 injuries every year in America. California is the third-highest ranking state for commercial truck registrations and the second-highest ranked state for fatal truck accidents every year.
1 out of every 8 traffic fatalities occurs during a semi-truck collision. While semi-trucks only account for 3% of the vehicles on roadways, they account for 12% of fatal accidents. Two thirds of these accidents take place on rural roads; however, 25% occur on interstate highways such as those going directly through San Bernardino.
Commercial Truck Accidents in San Bernardino
Traffic accidents involving 18-wheelers occur in any number of ways, but some of the most frequent types of commercial truck accidents include:
Tire Blowouts:

Most commercial trucks have 18 wheels and drive thousands of miles per week, so the chance of a tire blowout is exponentially higher on a semi-truck. Whether the blown tire causes the 18-wheeler to lose control or becomes a roadway hazard, this can lead to a variety of traffic incidents.

Rollover accidents:

The height and sometimes unevenly distributed weight in a tractor trailer, paired with traffic movements such as sudden braking, high speed, or incidental weather can cause the truck's wheels to leave the road.

Lane Change Collisions:

Especially on high speed interstates, many passenger vehicles may find themselves in the blind spot of a large truck or cut in front of a large truck in front of the cab, where the driver cannot see the vehicle.

Undercarriage Collisions:

This occurs when small vehicles, usually at high speeds, slide underneath the truck's trailer during a collision. These incidents are typically fatal as the top of the vehicle may be sheared off.

Jackknife:

At times, the back of the trailer may swing out of sync with the truck, usually when braking suddenly or completely narrow turns. Sometimes this causes the entire rig to lose balance, the tires to leave the roadway, or a rollover accident.
Negligence may be a factor in semi-truck accidents, whether due to overworked drivers, faulty manufacturing, or negligent maintenance routines. The driver, company, and manufacturer may all be found liable in the event of injury or death. It is important to secure experienced personal injury representation such as the commercial truck attorneys at Rawa Law Group for a successful compensation claim in these cases. Contact us for a free consultation today.
Other Cities That We Service: Fontana, Rancho Cucamonga, Ontario, Victorville, Hesperia, Chino, Chino Hills