Hire The Best Riverside Motorcycle Accident Attorney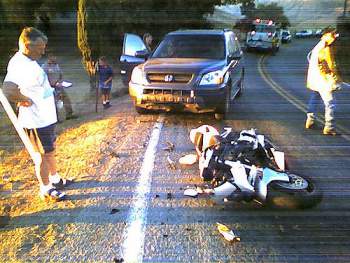 California has more licensed motorcyclists than any other state in the country and it's no surprise given our beautiful weather and scenic roads. California is also unique due to its lane splitting law that allows motorcyclists to ride between traffic lanes to pass slow traffic. While this is legal, it can also be risky for motorcyclists.
Motorcycle riders are among the most vulnerable motorists on the road and generally suffer more severe injuries and higher fatality rates when accidents occur. According to the government, motorcycle accidents are about 35 times more likely to result in death than car accidents.
If you or someone you love has been injured in a motorcycle accident, a Riverside motorcycle accident attorney  can help you protect your rights and seek fair compensation for your injuries and losses.
Causes of Riverside Motorcycle Accidents
Even very safe motorcyclists can get into an accident. There are many factors that contribute to motorcycle accidents in Riverside. There are many occasions when a truck accident is involved with a motorcycle and when this happens it can become quite serious due to the size differences.
Head-On Crashes
56% of motorcycle fatalities involve collisions with other vehicles. In 78% of these crashes, the vehicle hits the motorcycle from the front. Head-on collisions with a vehicle are frequently fatal to motorcycle riders.
Vehicle Making a Left-Hand Turn
42% of all motorcycle accidents involve a car or vehicle making a left-hand turn. These collisions usually occur when the motorcycle is traveling straight through an intersection, passing a vehicle, or attempting to overtake a vehicle. Motorcyclists are often difficult for drivers to see while turning. In the vast majority of cases, a vehicle that strikes another vehicle while making a left-hand turn is found at fault, but the motorcyclist may be at least partially at fault if the rider was speeding or traveling in the wrong lane.
Lane Splitting
Lane splitting is legal in California, but it can have disastrous consequences. Lane splitting involves a motorcyclist driving between two lanes of slow or stopped traffic. There are many reasons lane splitting can lead to an accident, including the close proximity of vehicles to the motorcycle, reduced space to maneuver, and that cars do not anticipate a vehicle passing them.
Speeding and Alcohol
Nearly half of all motorcycle accidents involving a single motorcycle are the result of speeding or alcohol use. These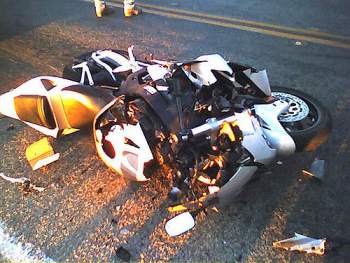 accidents are more likely to result in death or serious harm than car accidents.
Collision with a Fixed Object
25% of motorcycle fatalities involve a collision with a fixed object. These accidents are more deadly because the rider is likely to be thrown from the bike.
Road Hazards
Motorcycles are more vulnerable to road hazards like slick pavement, potholes, uneven lane heights, objects, gravel, and dead animals than cars because motorcycles are smaller and less stable.
High Performance Bikes
High performance motorcycles like sport and super sport bikes make up a disproportionate amount of motorcycle accidents because they are built for speeds of up to 160 mph. Most sport motorcycles are also driven by drivers under 30 who have less experience and may be less cautious.
Contact a Motorcycle Accident Attorney in Riverside Today
Do not speak to the insurance company without talking to a personal injury attorney in Riverside to protect your rights. The insurance company will seek to pay you as little as possible to settle your claim, and the settlement may not even cover your losses. Contact Rawa Law Group today for a free consultation with an experienced motorcycle personal injury lawyer in Riverside who will help you review your legal options and rights.
If you would like to learn about all of our Riverside California attorney services, just click the link for more information. You will be glad that you did.
Other Cities That We Service: Moreno Valley, Corona, Murrieta, Temecula, Hemet