Best 18 Wheeler Accident Lawyer in Riverside Ca.
Commercial trucks, also known as semi trucks or 18 wheelers, are a common sight on the roadways in Riverside. More than 3 million semi trucks drive over 94 billion miles throughout the United States each year to deliver food and goods.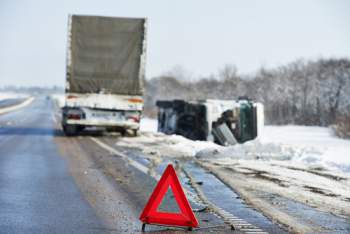 Given their size, it's no surprise that 18 wheeler accidents are often devastating. Semi trucks weigh anywhere from 10,000 to 80,000 pounds and account for almost 3,400 fatal traffic accidents and 60,000 traffic injuries every year. California has the country's third-highest number of semi truck registrations and the second-most fatal commercial truck accidents in the country.
About 1 out of 8 traffic deaths involve an 18 wheeler collision. While large trucks account for just 3% of vehicles on the road, they are involved in 12% of traffic fatalities. Rollover accidents in which the truck's tires leave the surface of the road are the most dangerous. About two-thirds of fatal accidents happen on rural roads, but one-quarter occur on interstate highways like the I-215 and I-15 that go through Riverside. If you or someone you love has been injured or killed in an 18 wheeler accident, an experienced personal injury attorney in Riverside, CA can help you protect your rights.
Common Semi Truck Accidents in Riverside
Accidents can occur in many ways, but there are a handful of common traffic incidents involving 18 wheelers in Riverside.
Jackknife. Jackknives occur when the back of the trailer swings out of sync with the tractor, usually when the driver brakes suddenly. While the driver can sometimes regain control of the trailer, sometimes it causes the entire rig to go out of control.
Rollover. The height of the truck trailer and factors like sudden braking, high speeds, and high winds can cause the truck's wheels to leave the road. Rollover accidents are very dangerous as it increases the chances of collisions during the rollover and from approaching vehicles.
Blowouts. Most tractor trailers have 18 wheels, any of which can blowout. This usually does not cause an accident, but sometimes a blown tire causes the truck to lose control or this could also cause a bus accident.
Under-ride collision. These accidents occur when a vehicle slides underneath the truck's trailer during a collision. Depending on the speed of the vehicles, this can cause the windshield and top portion of the vehicle to be sheared off. Under-ride collisions are often fatal or very serious accidents.
Lane change collisions. Big rigs have large blind spots and commercial truck drivers must rely on their side mirrors alone to determine when it is safe to change lanes. Blind spots often prevent full visibility that can lead to unsafe lane changes and collisions.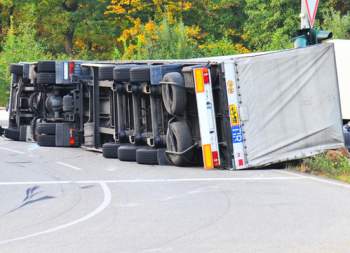 Negligence is often a factor in 18 wheeler truck accidents in Riverside. Sometimes it is the driver, truck manufacturer, or trucking company that is liable, but it may be the motor vehicle driver as well. When the driver or manufacturer is at fault, reasons may include speeding, mechanical problems, heavy or unsafe loads, cell phone use, aggressive driving, unsafe equipment due to negligent maintenance or inspections, negligent hiring or supervision of drivers, or fatigue due to lack of sleep and over-driving.
Contact a Riverside Truck Accident Attorney Today
If you or someone you love has been injured in an 18 wheeler accident in Riverside, California, it's important to seek legal representation as soon as possible to protect your rights and get help recovering fair compensation for your medical costs, lost income, and pain and suffering.
Contact Rawa Law Group today to schedule a free consultation with an experienced 18 wheeler accident attorney in Riverside to discuss your case.
Other Cities That We Service: Moreno Valley, Corona, Murrieta, Temecula, Hemet