Expert Lawyers in Slip and Fall Accident Cases in Los Angeles
Slip and fall accidents are the second leading cause of injuries in California after car accidents, according to the Centers for Disease Control (CDC). Slip and falls account for about 15% of all workplace-related accidents as well as many of the traumatic brain injuries and fractures sustained in Los Angeles. These accidents are also a leading cause of missed work days and emergency room visits. Slip and fall accidents can happen anywhere, to anyone.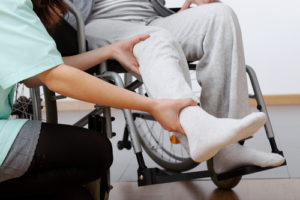 While most slip and falls happen at home, they can also happen at work, in a parking lot, on the sidewalk, in an elevator, on a stairway, and in a store. Also known as premises liability cases, these accidents can be more complex than they seem as it is required they establish negligence, liability, and damages to receive compensation for your injury. If you have been injured in a slip and fall accident, a Los Angeles slip and fall injury attorney can help you explore your legal options.   Common Slip and Fall Injuries Many use slip and fall cases as examples of frivolous injury lawsuits, but the truth is falls can lead to very serious injuries, life-long disabilities, and even fatalities. Common serious injuries that may result from a slip and fall include:
Fractured hips and pelvis. Seniors account for a large share of slip and fall accident victims. Seniors are also more likely to be seriously hurt in falls, which are the leading cause of non-fatal and fatal injuries among older adults. A fall that causes a victim to break a pelvis or hip can lead to a long stay in a respite facility, serious surgery, and reduced quality of life.
Torn ligaments and tendons. Tearing a tendon in the wrist, knee, or foot can be extremely painful and lead to long-term health consequences. Torn ligaments and tears can take months to heal, require intense physical therapy, and necessitate surgery that cannot always restore full function.
Spine and neck injuries. Falls can lead to neck and spine injuries like slipped or bulging discs that are difficult to treat, cause chronic pain, and lead to surgery and physical therapy, as well as difficulty returning to work.
Head injuries. A traumatic brain injury from a fall can have very severe and lifelong consequences for a fall victim. A head injury can require extensive rehabilitation and lead to mobility issues, cognitive problems, memory issues, behavioral problems, reduced quality of life, and an inability to work.
What Causes Slip and Fall Accidents in Los Angeles? Slip and fall accidents can happen anywhere. The most common cause of trip and fall accidents are wet or uneven surfaces, which account for about half of these accidents. Improper training in the workplace, particularly the construction industry, may also lead to falls. Other causes include:
Nursing home neglect
Footwear, such as wearing high heels
Wet or icy surfaces
Clutter
Inadequate lighting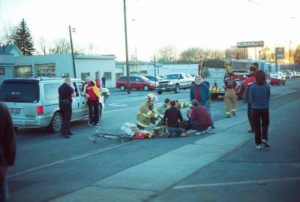 California law holds that property owners and managers have a duty of care to protect visitors from dangerous conditions on their property. Slip and fall injury cases are usually based on negligence, such as a property owner failing to provide adequate lighting in the parking lot or repair degraded flooring. Proving your injury case requires establishing that the property owner had a duty of care, that this obligation was not fulfilled, and you suffered an injury as a result. Premises liability cases are not always easy to prove. A judge will consider many factors in the case, including whether the owner should have or did know the property had a hazard, whether the owner took any previous action to correct the problem, and whether it was reasonable for the property owner to know about the hazard. Contact a Los Angeles Slip and Fall Accident Attorney If you have been injured in a trip and fall accident in San Diego, a personal injury attorney can help you protect your rights and seek fair compensation to help you pay for medical bills and lost wages. Contact Rawa Law Group for a free consultation with an experienced Los Angeles premises liability lawyer to discuss your case.
Other Cities That We Service: Long Beach, Glendale, Lancaster, Palmdale, Pomona, Torrance
Escondido, Pasadena, El Monte, Downey, Inglewood, West Covina, Norwalk, Burbank, Compton, South Gate
Carson, Santa Monica, Whittier, Hawthorne, Alhambra, Buena Park, Lakewood