The Best Plane Accident Lawyer in Los Angeles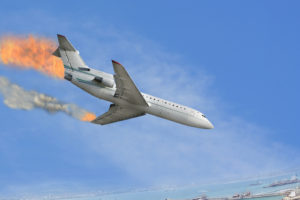 Plane accidents are a rare occurrence and aviation is generally the safest form of transportation. When plane crashes do occur, however, they are usually devastating. Accident victims and survivors are often left struggling with life-changing consequences of the accident. To make matters even worse, plane crash lawsuits are notoriously difficult to prove. Plane accidents must be investigated by several local and federal agencies before insurance companies can begin an investigation. While there are strict standards in place that govern design, inspection, and maintenance of aircrafts along with employee evaluation and training, most plane accidents are avoidable. Plane accidents are often caused by negligent airlines, pilots, and maintenance crews, as well as manufacturing and design flaws.
Who is Liable for a Plane Crash in Los Angeles?
The first stage of any plane accident lawsuit is establishing what caused the accident and who is liable for injuries. Liability in a plane crash may be assigned to one or more parties, including the plane manufacturer, commercial or private airline, the pilot, or the federal government, which may include the Federal Aviation Administration (FAA). Federal agencies always perform an investigation of a plane accident, but independent investigations often turn up factors that the government missed.
Establishing the cause of the accident is the most critical part of any plane accident lawsuit. Human error is often to blame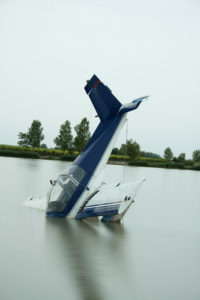 for plane accidents, but it is possible for issues with the plane to contribute to the accident. Sometimes more than one party is found responsible, in which case they will share liability for injuries.
Wrongful Death Plane Accident Cases
Plane crashes often result in fatalities. These accidents may be attributed to poor maintenance, bad fuel, air traffic control negligence, poor weather, navigation errors, or pilot error, among other factors. When a commuter, commercial, or private aircraft accident results in fatalities, survivors may be eligible to file a wrongful death lawsuit in Los Angeles to seek financial compensation from the responsible parties for loss of companionship, funeral costs, loss of financial support, and other financial burdens.
Contact a Los Angeles Plane Crash Attorney
Plane accidents almost always result in serious accidents and fatalities, leaving surviving family members struggling with grief as well as financial hardship. Survivors of a plane crash may struggle to return to work while facing mountains of medical bills, physical therapy, and chronic pain. If you or someone you love has been hurt or killed in an aviation accident, it's important to seek legal counsel from an experienced personal injury attorney in Los Angeles to assist you.
A skilled personal injury lawyer will hire experts to investigate the accident, build your case with evidence that may include air traffic control records and cockpit recorders, and seek fair compensation from the responsible parties. Contact Rawa Law Group for a free consultation with an experienced aviation accident injury lawyer in Los Angeles to protect your rights and learn more about your legal options.
Other Cities That We Service: Long Beach, Glendale, Lancaster, Palmdale, Pomona, Torrance
Escondido, Pasadena, El Monte, Downey, Inglewood, West Covina, Norwalk, Burbank, Compton, South Gate
Carson, Santa Monica, Whittier, Hawthorne, Alhambra, Buena Park, Lakewood