The Top Pedestrian Accident Lawyer in Los Angeles
California has more pedestrian accidents than any other state in the country with more than 700 people killed in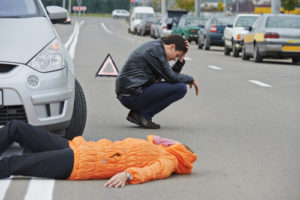 pedestrian traffic accidents each year and another 12,000 injured. Los Angeles is currently one of the most dangerous cities in the nation for pedestrians. While 14% of nationwide traffic accident fatalities are pedestrians, about 41% of people killed in car crashes in Los Angeles are pedestrians.
If you or a loved one has been injured in a pedestrian traffic accident in Los Angeles, a pedestrian traffic accident attorney can help you understand your legal options and seek compensation from the responsible party to help you cover medical bills, lost wages, and your pain and suffering.
Los Angeles Pedestrian Accidents
Los Angeles has the second-highest pedestrian fatality rate in the United States with about 100 people killed every year. Only New York City has a higher pedestrian fatality rate than LA. One factor that contributes to pedestrian deaths in the city is the major hit-and-run epidemic. There is a hit-and-run crash in LA every 18 minutes with 50% of all incidents in the county being hit-and-run cases.
Most pedestrian deaths in Los Angeles take place at night and most victims are male and/or seniors. According to a recent report, about one-third of victims had blood alcohol levels exceeding the legal limit.
Many factors contribute to pedestrian traffic accidents in Los Angeles:
Drunk driving
Drunk pedestrians
Speeding
Running a red light or stop sign
Making a right turn in an intersection without checking for pedestrians
Failing to yield right-of-way at crosswalks
Distracted driving
Even low-speed accidents can cause serious injuries to pedestrians. Victims often suffer serious injuries like traumatic brain injuries, fractures, organ damage, amputation, and spinal cord injuries, any of which can lead to disability, disfigurement, and extensive rehabilitation.
Contact a Los Angeles Pedestrian Accident Lawyer
If you or a loved one has been injured in a pedestrian traffic accident, an experienced personal injury attorney can help you protect your rights and seek compensation from the responsible party. Do not speak with an insurance company before seeking legal counsel as insurance companies routinely offer low settlements and anything you say may reduce your right to compensation.
Contact Rawa Law Group today for a free consultation with a pedestrian accident injury attorney in Los Angeles to discuss your case.
Other Cities That We Service: Long Beach, Glendale, Lancaster, Palmdale, Pomona, Torrance
Escondido, Pasadena, El Monte, Downey, Inglewood, West Covina, Norwalk, Burbank, Compton, South Gate
Carson, Santa Monica, Whittier, Hawthorne, Alhambra, Buena Park, Lakewood