The Trusted Los Angeles Commercial Truck Accident Injury Attorney
Commercial trucks serve all industries and every community in California with more than 78% of communities relying exclusively on trucks to move goods. California has more registered commercial trucks than any other state at more than 5.6 million. Los Angeles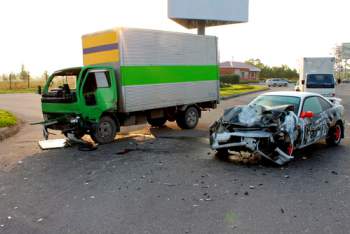 County ranks third in the state in terms of average daily truck miles of travel, which means Los Angeles tends to have more commercial truck accidents than other areas of the state. Given their large size, blind spots, and weight, it's no surprise that 18 wheeler accidents often result in fatalities. According to the Department of Transportation, commercial trucks account for about 4% of vehicles on California highways but over 12% of traffic fatalities. Passenger vehicle occupants account for 97% of fatalities in these accidents. If you or a loved one has been hurt in a commercial truck accident in Los Angeles, a personal injury attorney can help you explore your legal options and seek compensation for your injuries. Los Angeles Commercial Truck Accidents Commercial trucks have large blind spots that make it nearly impossible to see vehicles that are just feet away from the trailer and they require more road to stop. Commercial truck accidents are often attributed to driver error. Common causes of 18 wheeler accidents in Los Angeles include:
Driver following too closely
Speeding.
Improper lane change
Driving under the influence
Fatigued driving
Improper cargo loading
Liability for Commercial Truck Accidents Truck accidents may be attributed to many factors and liability may be shared by more than one party. A vehicle driver or the truck driver are usually responsible for accidents, but it is possible for the truck manufacturer, truck maintenance company, or trucking company to be liable for defective parts, improper maintenance, negligent hiring, or improper driver training that contribute to an accident. A personal injury attorney will work to investigate the accident and determine who is at fault for your injuries to help you seek compensation from the responsible parties. Contact a Los Angeles Commercial Truck Accident Lawyer Do not speak with an insurance company before seeking legal representation if you have been seriously injured in an accident. Insurance adjusters are not on your side; they represent the insurance company and work to limit payouts. The settlement you are offered may not be enough to cover your medical bills and other losses, and anything you say may be used to limit your right to compensation. Contact Rawa Law Group for a free consultation with an experienced commercial truck accident injury attorney to discuss your case and explore your legal options.
Other Cities That We Service: Long Beach, Glendale, Lancaster, Palmdale, Pomona, Torrance
Escondido, Pasadena, El Monte, Downey, Inglewood, West Covina, Norwalk, Burbank, Compton, South Gate
Carson, Santa Monica, Whittier, Hawthorne, Alhambra, Buena Park, Lakewood